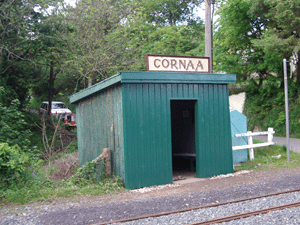 ABOVE: The restored shelter, Tuesday March 27th 2003
BELOW: The shelter earlier this year, before restoration work was begun.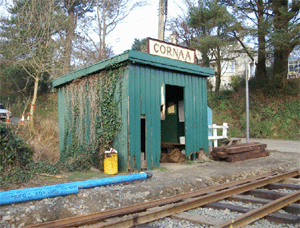 CONSERVATION POLICY PRODUCES MORE RESULTS...
Cornaa halt now boasts a refurbished shelter - thanks to the joint efforts of Isle of Man Transport and the Manx Electric Railway Society. The request stop is looking smart once again, with a replacement front and a partial repaint in MER green.
Earlier this year, the shelter was in a woebegone state, and investigative work to determine its condition had resulted in several planks being removed from the front of the structure.
The wooden shelter is typical of the type of structure built by the MER since the beginning of the railway over 100 years ago, and the restoration of this one in the original style is to be appluaded. The appreciation of the Island's Manx Electric Railway Society is recorded here.
The restoration of the shelter is in line with the recently announced 'Conservation Policy' for the MER, jointly agreed by the Department of Tourism and Leisure and the MER Society.
MAY 2003
Read the Policy in Full here...