CONTRIBUTORS PAGE
This page is designed for photographic contributions to the Manx Electric Railway Society website. If you have any views of transport to or on the Isle of Man and would like to see them added to the website please e-mail first with details to [email protected] All contributions welcomed.

Photographer Clive Brown visited the Island for a short break during May 1982, when he was able to capture some of the many facets of Manx transport during that period. It was an interesting toime especially on the bus scene, with many of the 'traditional' buses entering their twylight days in service being replaced with more modern types, albeit second-hand. Clive has a many thousands of transport and scenic photographs from all over the UK on his website at http://www.flickr.com/photos/cliveabrown/ with the Manx page at http://www.flickr.com/photos/cliveabrown/sets/72157605943072350/ and has very kindly allowed the inclusion of some on the Manx Electric Railway Society website. To see these images in full-size or the other good quality photographs from his collection please take a look at the above links.

This page continues to look at some of Isle of Man National Transport's single-deckers found in the fleet during May 1982. The MERS is very grateful for the use of these photographs, which make a welcome addition to the website. Copyright for each view remains with Clive Brown.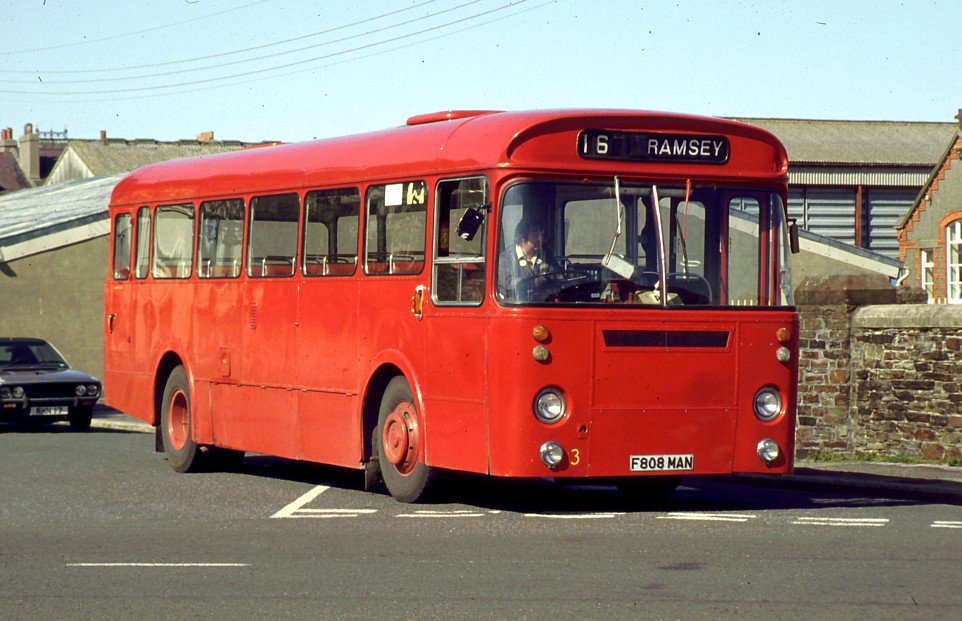 Leyland Leopard 3 (F808 MAN), with driver Alan Clague at the wheel, arrives at Rasmey bus station having completed its journey around Maughold on the infrequent 16 service. The bus had been new to Ribble Motor Services in 1966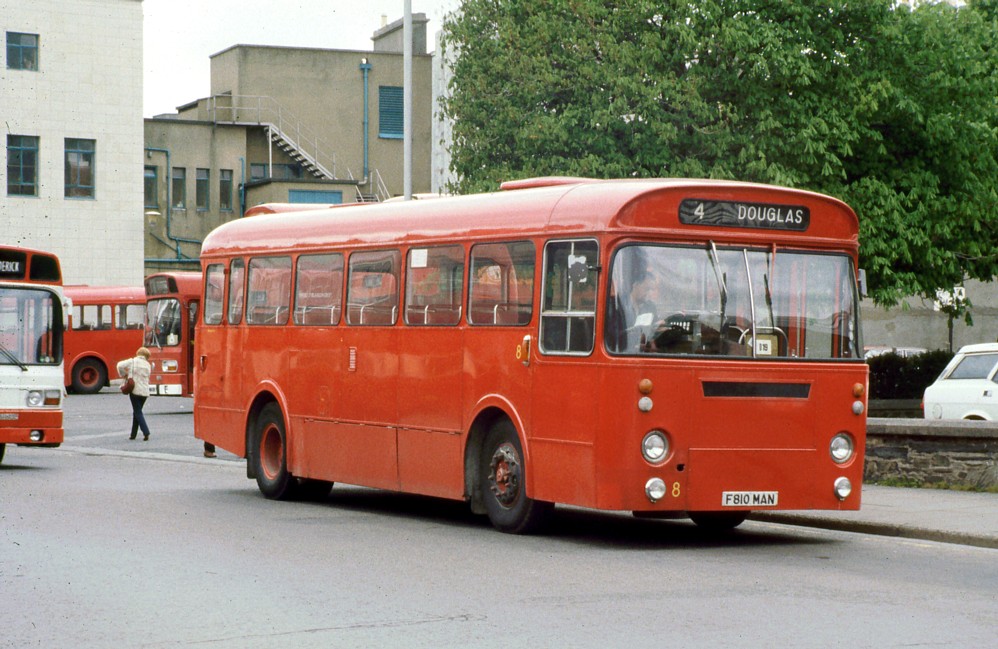 Another of the ex-Ribble Leyland Leopards, 8 (F810 MAN), is parked at Lord Street, Douglas having worked another infrequent service - route 4 to Foxdale. Arthur Clague is at the wheel this time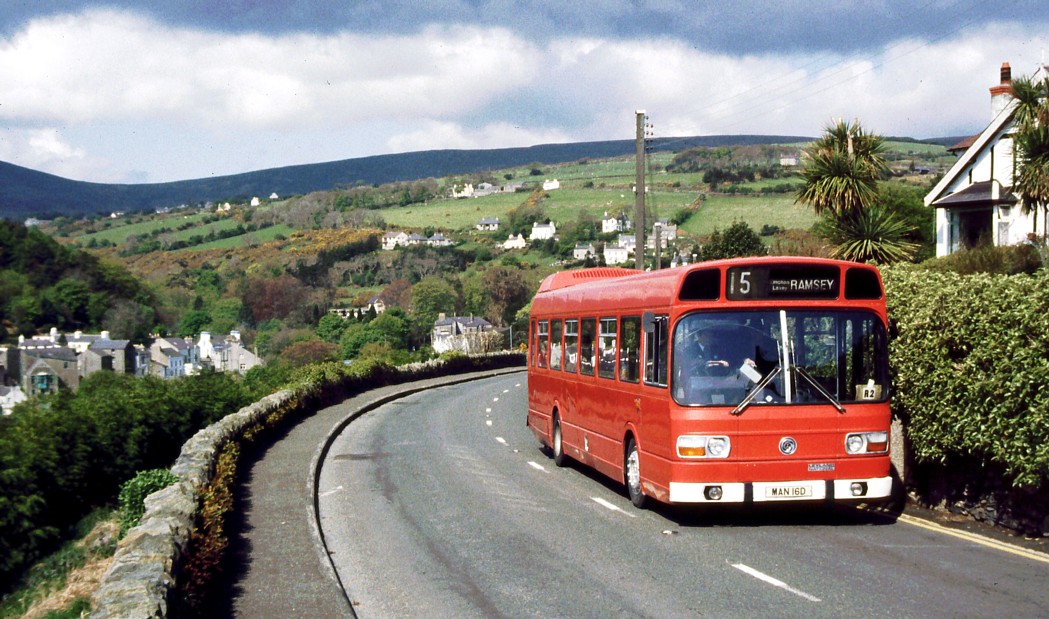 Mainstay of the single-deck fleet in 1982 were the twenty Layland Nationals delivered to/ordered by the Isle of Man Road Services. Dating from 1975, bus 16 (MAN 16D), driven by John Cormode climbs out of Laxey on the Ramsey Road bound for the twon of that name. With the growth of trees and other vegitation this view of the Laxey Valley belowcan no longer be achieved. National 16 has at some stage suffered off-side panel damage and upon replacement has lost the National Transport fleetname. The transfers applied to the Nationals were of a larger size than tapplied to the rest of the fleet, but were in short supply, indeed at least two Nationals never carried proper transfer instead having the name hand painted.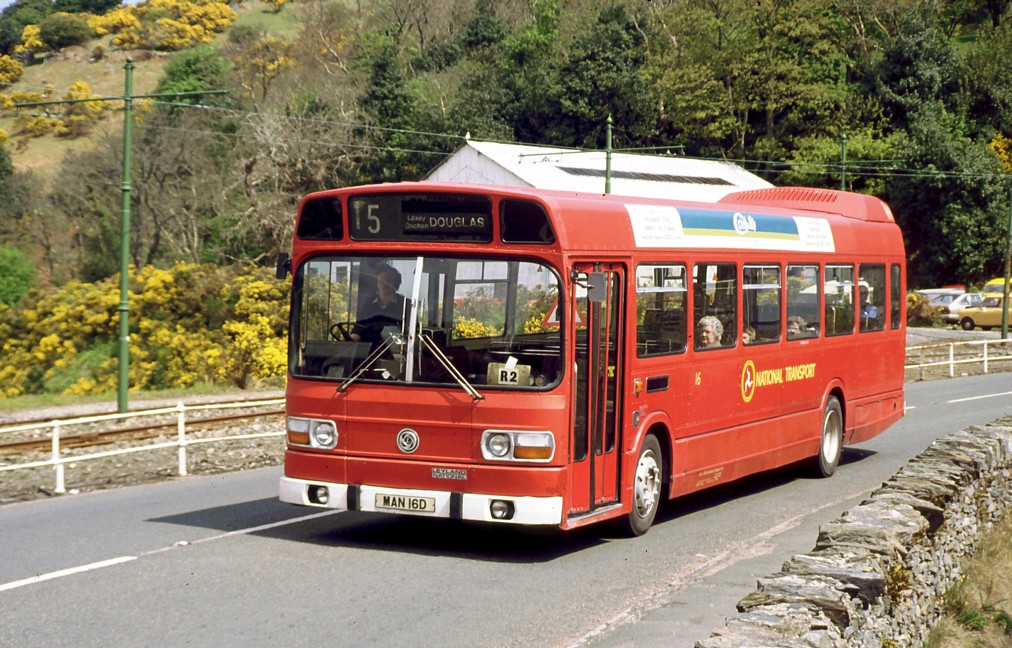 National 16, again working the trunk Douglas-Ramsey route, but this time with Doug Atkins at the wheel and heading south past the former IoM Road Services Laxey depot, then a car sales outlet. The bus was one of the Nationals with hand painted fleetname, the slight difference in the shade of yellow compared to the 'circles' around the ThreeLegs of Mann symbol giving the game away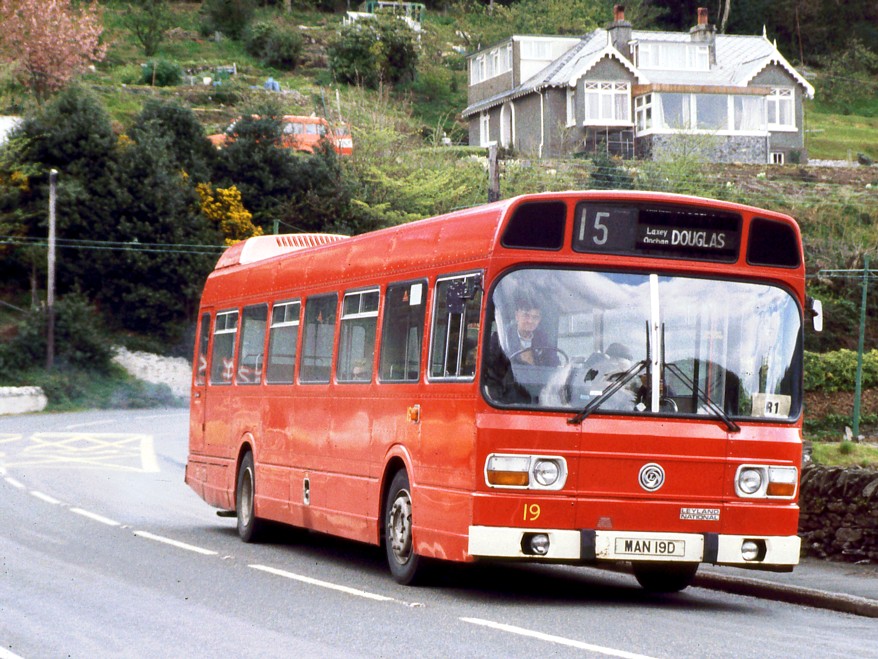 Taken at the same place in Laxey as the previous shot, but from across the road, National 19 (MAN 19D[i]) from the 1975 batch also heads to Douglas with Ted Radcliffe driving. Some three years later the bus would be involved in an accident at Baldrine a few miles down the road, which would see it on its side, and subsequently scrapped



The very last bus delivered to the Isle of Man Road Services shortly before amlamation in 1976 was Leyland National 27 (MAN 27H), seen at Douglas bus station. Sadly, despite all hopes, the bus was not retained by Isle of Man Transport (as IoMNT had become) as recognition of its importance to the local transport scene becoming instead a youth bus before being scrapped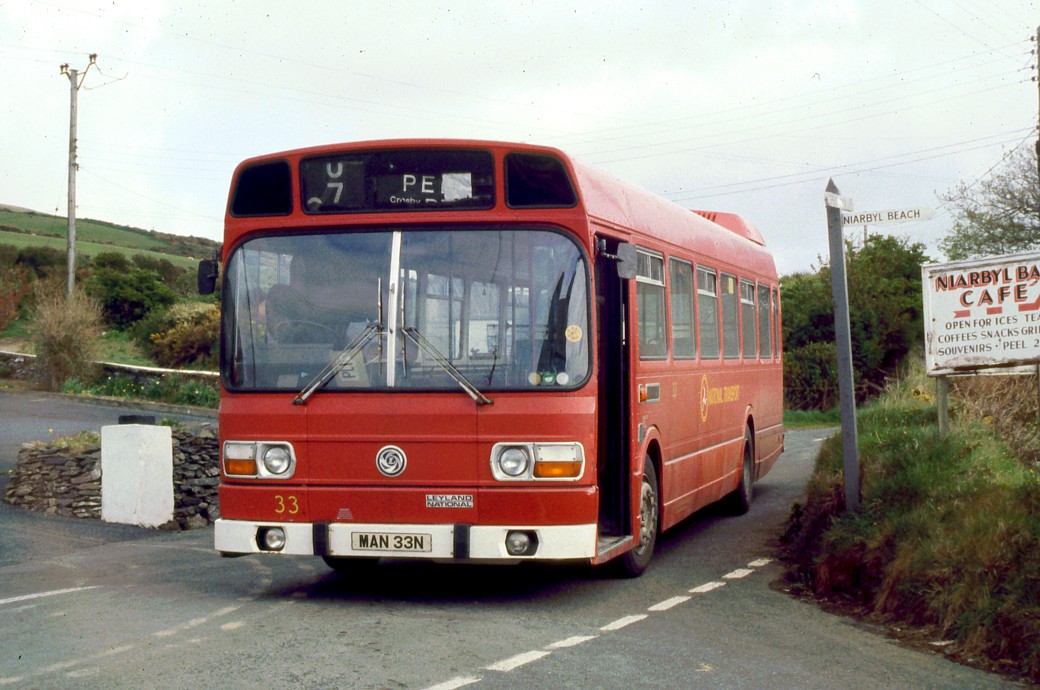 Isle of Man Road Services had a further siz Leyland Nationals on order at the time of the amalgamation in October 1976 and which were delivered the following year. The last of the six, 33 (MAN 33N) reverses at Dalby on the infrequent service 7 from Peel. The condition of some of the destination screens was, perhaps, not one of IoMNT's strongest points of the period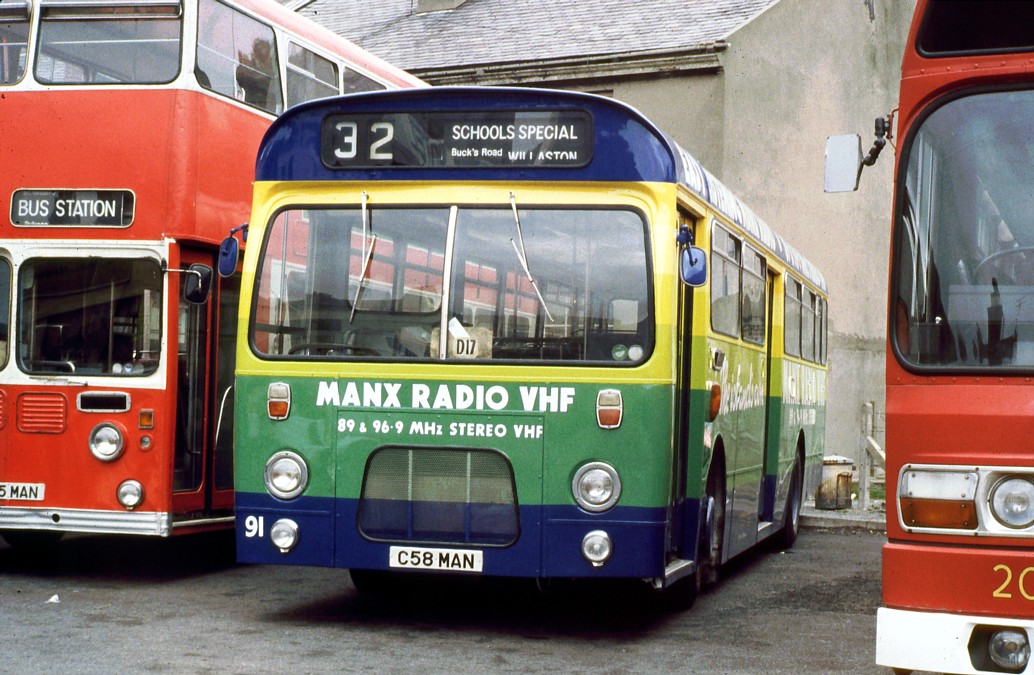 Former Preston Corporation Marshall bodied Leyland Panther 91 (C58 MAN[ii]) rests between Leyland National 20 and Atlantean 88 on the 'Patch' at Douglas, wearing all-over advert for Manx Radio. This Panther and sister 92 were locally registered with numbers from withdrawn Leyland Atlanteans