CONTRIBUTORS PAGE
This page is designed for photographic contributions to the Manx Electric Railway Society website. If you have any views of transport to or on the Isle of Man and would like to see them added to the website please e-mail first with details to [email protected] All contributions welcomed.

Photographer Clive Brown visited the Island for a short break during May 1982, when he was able to capture some of the many facets of Manx transport during that period. It was an interesting toime especially on the bus scene, with many of the 'traditional' buses entering their twylight days in service being replaced with more modern types, albeit second-hand. Clive has a many thousands of transport and scenic photographs from all over the UK on his website at http://www.flickr.com/photos/cliveabrown/ with the Manx page at http://www.flickr.com/photos/cliveabrown/sets/72157605943072350/ and has very kindly allowed the inclusion of some on the Manx Electric Railway Society website. To see these images in full-size or the other good quality photographs from his collection please take a look at theabove links.

This page features some of the single-deck buses found in the Isle of Man National Transport fleet during May 1982. The MERS is very grateful for the use of these photographs, which make a welcome addition to the website. Copyright for each view remains with Clive Brown.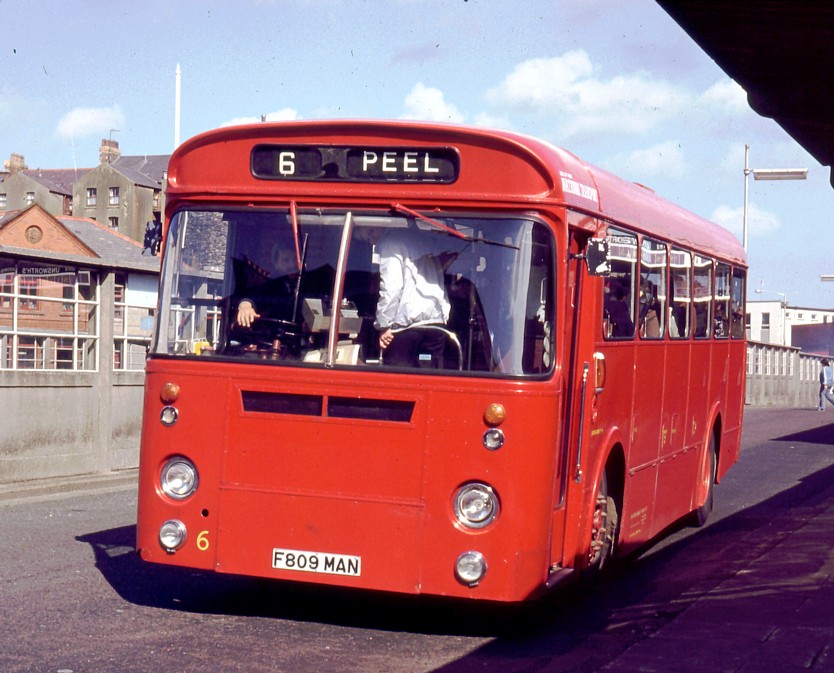 Ten Marshall bodied Leyland Leopards were purchased from Ribble in 1979/1980, some entering service in National Bus Comapny poppy red livery, although all later gained IoMNT unrelieved red. Loading up on the Peel stand at Dougls bus station is Leopard 6 (F809 MAN), the chassis of which still survives in 2008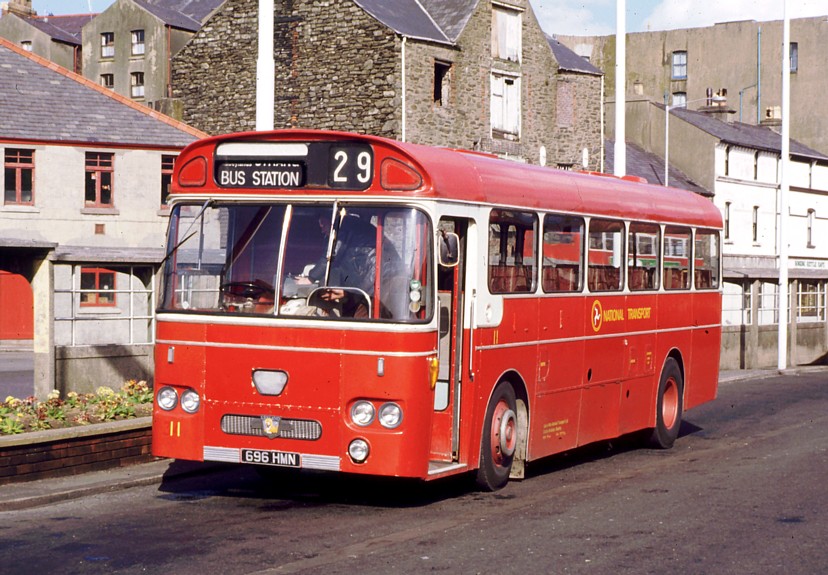 The ex-Ribble Leopards weren't the first to operate on the Island, Isle of Man Road Services taking delivery of three Willowbrook dual-purpose buses and a similar number of Duple bodied coaches 1967/1968. All six passed to Tours (IOM) in 1972 with the three Willowbrooks returning to IoMRS the following year. Numerically the first of the trio 11 (696 HMN) is seen at Douglas bus station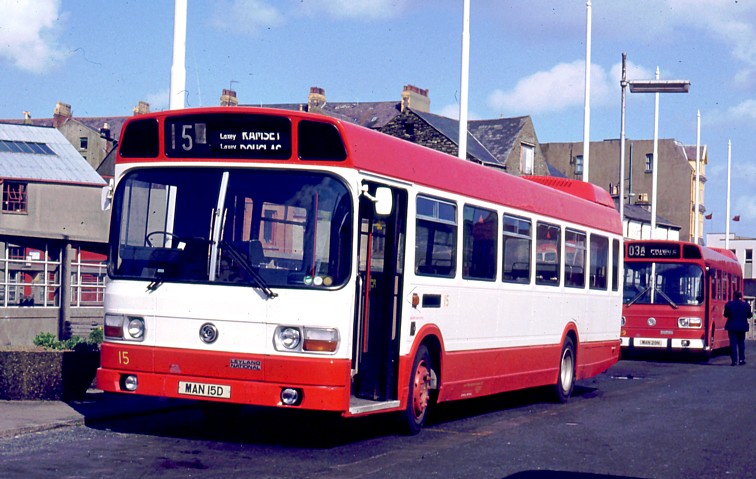 During the 1974-1977 period a total of twenty Leyland Nationals were bought new by the Isle of Man Road Services, and later IoM National Transport. Two are seen at Douglas bus station, 15 (MAN 15D[i]), in red and white livery, from the 1975 batch, and 29 (MAN 29N) in as delivered livery from 1977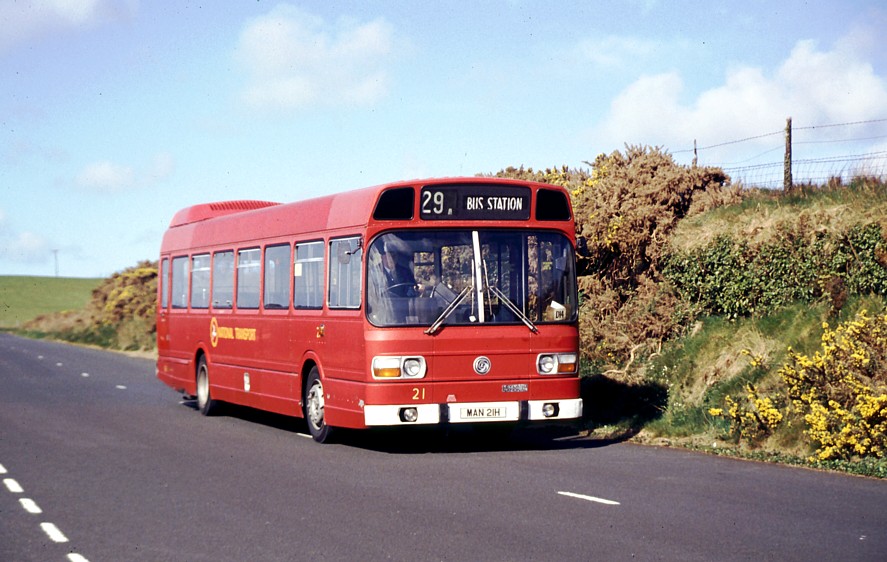 Leyland National 21 (MAN 21H), dating from 1976, is seen near Kerristal on the Douglas-Port Soderick route, worked by single-deckers due to the IMR railway bridge at Port Soderick station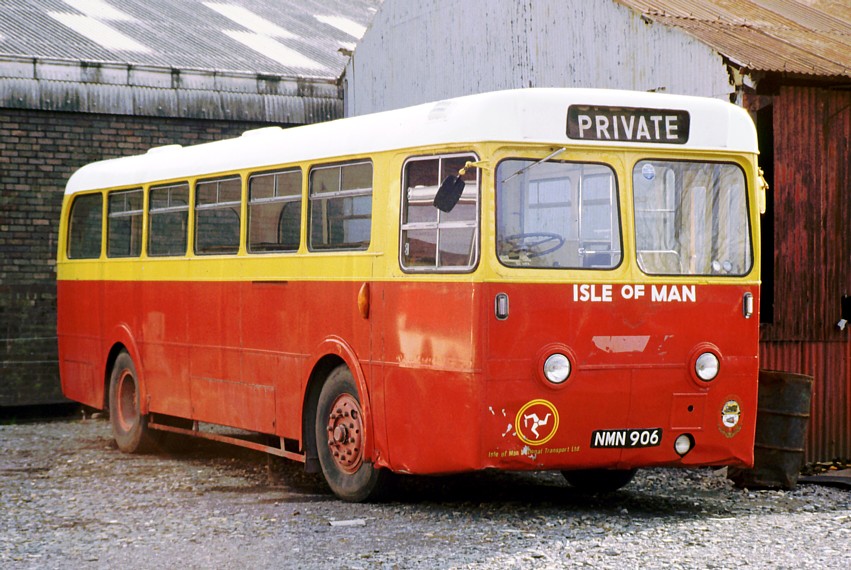 All Leyland Royal Tiger NMN 906, formerly bus 88 was converted into a publicty bus after withdrawal. By 1982 it was being used by Isle of Man Railways as a staff bus and is seen at Douglas railway yard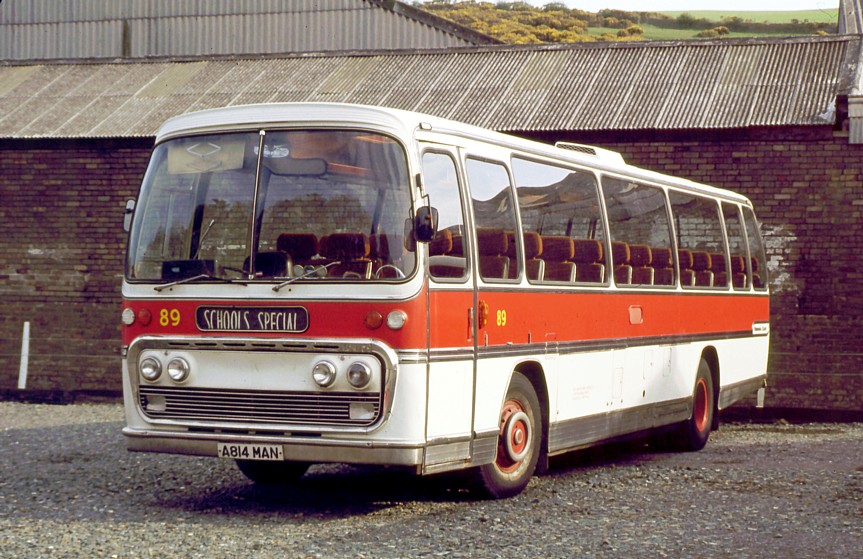 In 1979 two ex Wallace Arnold Plaxton bodied Leyland Leopards were acquired and numbered 89/90 (A814/815 MAN). Little used, largely because of the manual door, the former is seen at Douglas railway yard. It would later gain an all-over advert for Sealink Manxline before passing to Tours (Isle of Man) and subsequent disposal off the Island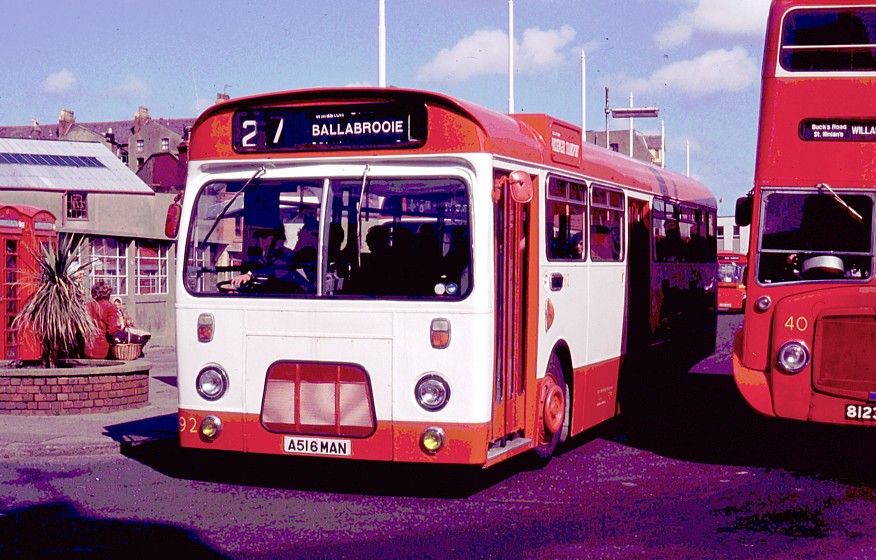 1982 saw the arrival of the first of a number of ex-Preston Corporation Leyland Panthers. Most had Pennine bodywork - although the first two to arrive carried Marshall bodies and were allocated ex-Atlantean registrations. Having enetered service just two months earlier Panther 92 (A516 MAN[ii]) is seen departing Douglas bus station on Douglas town service 27. Only a matter of weeks later the bus would be withdrawn and converted into a publicity vehicle