CONTRIBUTORS PAGE - TRAVEL DIARY
May 16-23, 2009 - Have things improved?
by SARA GOODWINS


Having completed a travel diary for 3-10 May 2008 when the horse trams were not running and the MER went no further than Laxey, the Manx Electric Railway Society asked us to do another travel diary in May 2009 for comparison purposes. Always delighted to help…

We're two weeks later than usual this year as, although we knew that the MER would be running, we were eager not to be caught out by a tramless Douglas promenade. Last autumn I telephoned Douglas Corporation to ask about the horse tram service, explaining that we have to book our self-catering cottage earlyish to be sure of the most suitable time (and price). An extremely helpful lady at Douglas Corporation took trouble to assure me that, although the horse trams might start running earlier, they would definitely not be starting later than Monday 18 May 2009. We therefore organised our holiday for that week.
Saturday, May 16
Having been given a superb aerial view of the Calf of Man and Chicken Rock lighthouse we land at Ronaldsway. Our flight is much earlier than in the past, so we hustle with the luggage and scramble down to Ronaldsway Halt (or 'Ronaldsway International Interchange' as one guard calls it) to get the first Douglas-bound train at around 10.45. Still no sign announcing the halt - it was missing last year too - and no shelter has yet been installed. It's raining slightly but the train is almost due so we shouldn't get too wet.

Bunker first No. 13 KISSACK hauling a five-carriage train appears round the curve from Castletown. Hand out to indicate that it should stop; the driver whistles an acknowledgement. The guard bustles down the platform to help with the suitcases and we squeeze into one of the open carriages. We've never ridden in an open carriage before and find the luggage something of an embarrassment - where to put it out of everyone's way? The seats in the open carriages are smaller than those in compartments so sitting with suitcases on our laps as we expected to do is not really possible - they end up on everyone else's lap as well. Long experience of commuting means that we stash the bags in one of the offside doorways.

At Ballasalla we get our first surprise. While we're waiting in the passing loop for the down train, the guard asks us to go and buy tickets at the ticket hall. (He also promises not to leave without us!) No problem, but we've always paid at Douglas before. This way is better; it's less crowded than Douglas and gives us the opportunity to admire No. 10 G.H. WOOD from the platform rather than through a window.

At Douglas we have our tickets inspected and learn, to our delight, that the horse trams began earlier than we expected (on 11 May instead of 18 May) and are now running. We therefore abandon plans to catch the bus and set off to haul the cases the half-mile to the Victoria Pier horse tram terminus. Unfortunately it's started to rain in earnest so we get a bit soggy. Never mind - we don't come to the Isle of Man for the weather. (We cling to this sentiment rather a lot over the next week!)

The timing is superb as Tram 35 pulled by motive power unit, aka horse JOHN, arrives at Victoria Pier at the same time as we do. Just as well as the rain is now horizontal off the sea and there is no shelter at the Victoria Pier end of the horse tram route. We've always thought it rather odd that customers queue for the tram on what amounts to a traffic island in a busy road, but it's safe enough as long as you stay on the pavement. Shame there's no shelter though.

Clip clop along Douglas Promenade huddled as far as possible on the land-side of the open-sided vehicle. The rain may have achieved inevitability but the tram is still fairly full. This is Britain. In summer. Of course it's raining. Those are the rules.

Unfortunately the horse tram misses the 11.40 service from the MER. The MER crew wait as long as they dare, but JOHN's leisurely trot doesn't quite cover the ground quickly enough. We see the MER car leave from Derby Castle while still well shy of the stables. Never mind, holidays are not the time for rushing around.

Arrive at Derby Castle at 11.50, slide the bags off the horse tram and pat JOHN. Then one of us hurries into the MER shelter to get the luggage out of the rain while the other goes to the MER hut to collect a public transport timetable and buy the scratch card which wins a week's free travel on the Isle of Man. They're still seven-day travel passes, though; an eight-day pass would be so much more sensible as it would cover both arrival and departure.

At Derby Castle we also get a shock. According to the blackboard, the last car of the day leaves at 15.10. Ten past three? That's got to be a mistake, surely. They must mean ten past five. We huddle in the shelter and consult the timetable. No, the station master has not made a mistake. Ten minutes past three is right. The final tram from the island's capital leaves the wrong end of the two-mile promenade in the early afternoon. That's going to be a problem.

Wait in the shelter until 12.40 to watch car 22 and trailer 41 arrive and the crew turn it. Then put the cases on the back of the trailer and pull down the shutters to keep them safe. The crew obviously thinks we're crackers to be riding on the trailer in the pouring rain, but they're very polite about it.

We're vindicated! By the time we reach Laxey it's stopped raining! Dump the cases in the cottage (yuk, one of them has leaked), snatch a quick bite to eat and then scuttle up to the Great Laxey Mine Railway for a ride. It's only open on Saturdays and Bank Holidays so we usually miss it because we're travelling. ANT and BEE are like distilled versions of their larger brethren and the resulting essence of engine turned into tiny locomotives. They're about the size of large shopping trolleys and delightfully simple. £1.50 buys a return trip along the single track stretching about a quarter of a mile along the valley, but the real draw is the tunnel. It's about 80 yards long and is obviously far too small to allow passage for a steam-hauled train complete with locomotive, driver/fireman, guard, coach and passengers. They go through it though. To make sure that the train can be evacuated safely if necessary the loco is only allowed to take one carriage at a time; ours was hauled by BEE. I now know exactly how toothpaste feels as it's squeezed through a tube. And, rather more seriously, the appalling conditions in which the miners must have worked.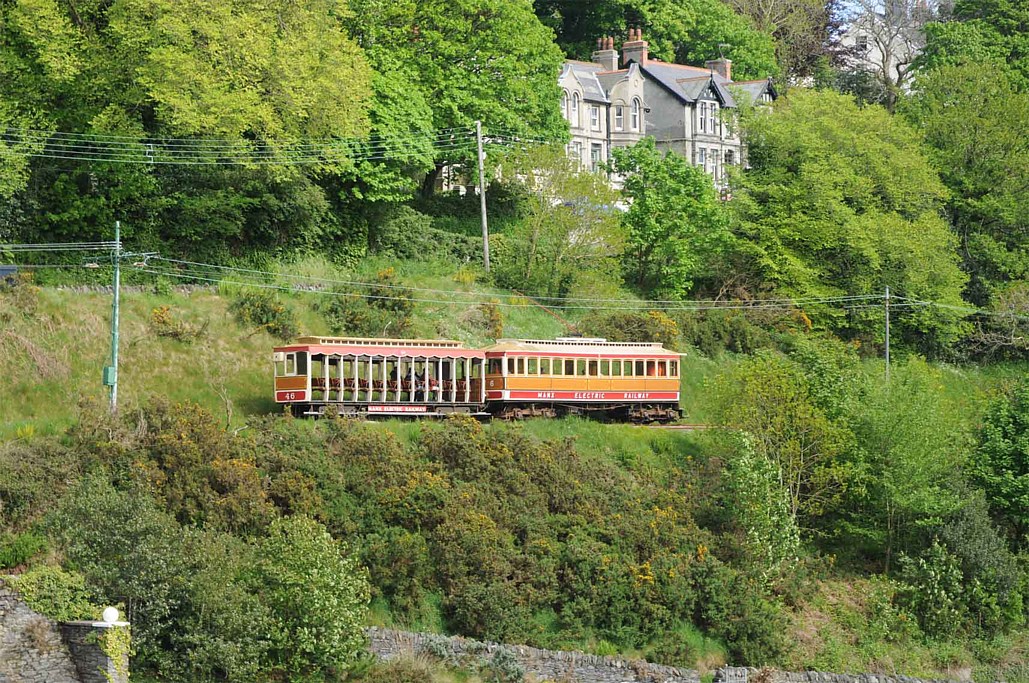 Car 6 and 46 leaving Laxey for Ramsey - 15:10 from Douglas - May 16, 2009 (Photo George Hobbs)

Sunday, May 17
Overnight we've studied the timetables. Hope no-one reading it believes the times given within the bus timetable for the MER; it's last year's timetable and both wrong and misleading for 2009. The service to Ramsey is no longer closed, but the service from Douglas is very much worse than listed here. Yes, the page does say that the times are only valid for 2008, but as the entire timetable is dated 2008 and is still being used for 2009 buses and trains the MER times could easily be confusing.

Forget the buses, they're scarce on a Sunday. We haven't been to Ramsey on the tram for over two years. Let's go.

Leave Laxey by the 10.10 to Ramsey, car 21 and trailer 43. Notice immediately how many of the halts have been given a make-over with tubs of flowers and tarmaced waiting areas. Notice also how little difference the expensive track replacement has really made to the ride. (This is not just the opinion of an ignorant tourist; one of us is a railway engineer and an expert responsible for track and overhead in the UK. In general he wasn't overly impressed.)

Notice also the bright yellow warning signs at the various crossing points telling drivers to be aware that the trams are now running again. Such signs shouldn't really be necessary but despite them we have a couple of near misses. At the road crossing near Bellevue two road vehicles stop hastily, one car having to reverse off the line, while at Ballafayle (Kerruish) a tractor crosses the track abruptly and without apparently checking for tram traffic at all. Only prompt action and sharp braking by the tram driver prevents a collision.

Arrive at Ramsey and return on the same set, car 21 + 43, to Crowcreen. Wave through Ramsey-bound car 22 + 41 before walking down to Port Cornaa for a picnic on the beach. Half-way down, rain begins falling which is so cold it might even have a touch of sleet in it. We do reach the beach, but picnicking in a chilly downpour doesn't seem very attractive so we squelch back to Glen Mona and borrow the tram shelter to have our sandwiches. Wave through Ramsey-bound car 21 + 43, but it stops anyway (Sorry driver; we'll try to be clearer next time). Caught Douglas-bound car 9 and trailer 46 and, again to the conductor's surprise, choose to ride on the trailer. Apart from the fact that the trailer is more fun, we are much too wet to sit on upholstered seats; we'd soak everything.

Alight at Preston's Crossing. Weather has turned and is now glorious so wait to wave through car 22 + 41. Then go home to wring ourselves out.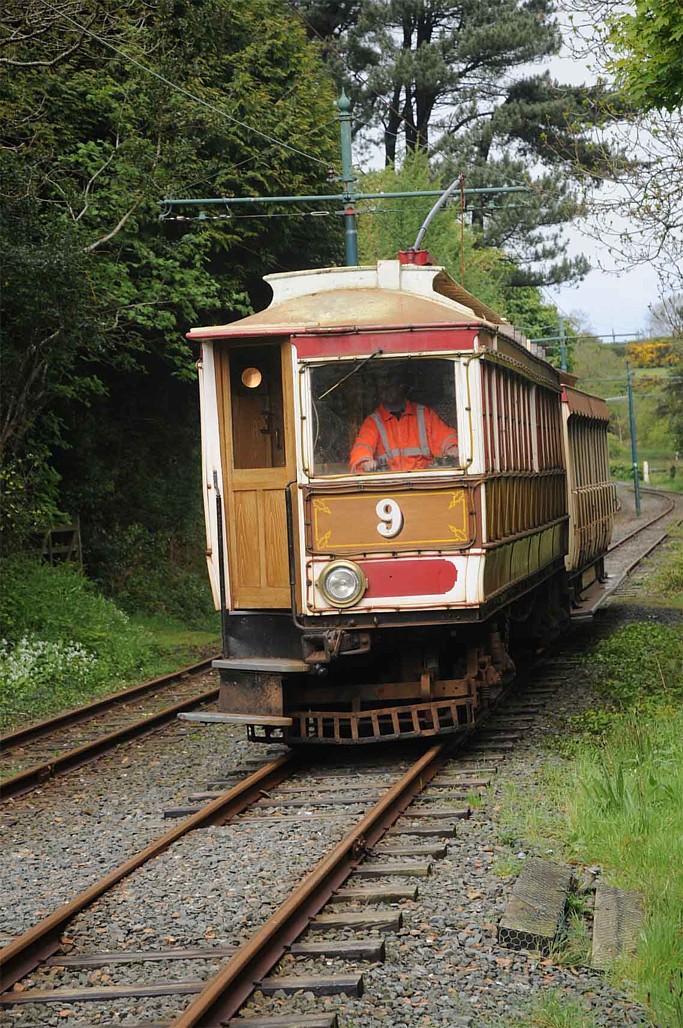 Car 9 and 46 arriving at Glen Mona with 13:40 from Ramsey - May 17, 2009 (Photo George Hobbs)

Monday, May 18
Will it rain?! It does look likely so we decide to go to Peel. From Laxey it's actually quicker to get the tram to Ramsey and the bus round the top of the island, than to get the tram to Douglas, catch the horse tram or walk along the promenade and then get the bus east through St John's. In miles the Ramsey route is longer, but in time it's quicker and requires less foot slogging.

Caught the first Ramsey-bound tram, car 21 + 43, at around 10.00 at Fairy Cottage as there's a shelter we can hide in if it's raining. Spent some time admiring the newly replaced cross-over at Fairy Cottage. According to the expert among us it's a very good piece of railway engineering.

A touch of déjà vu possesses us at Ballafayle (Kerruish) as the same tractor again crosses the track abruptly and without apparently checking for tram traffic. The tram is not quite so close this time so the motorman slows down normally. Nevertheless he should neither be expected to nor need to.

Alight at Queen's Valley. We want to have a quick look at the pier, although it has to be from the shore as public access is not allowed. Locals are campaigning to have the pier restored and re-opened, complete with small railway. Let's hope they succeed. Walpole Drive would be a closer stop, but we've never been to Queen's Valley before. Hardly surprising really. The stop was only created in 2007, just in time for the track which it serves to be closed for most of 2008.

Walk via the pier and Ramsey front to the bus station and catch the No. 6 bus to Peel leaving at 11.40. It's always fun to spot the remnants of the Manx Northern Railway from the top of the bus - there are lots of them. Look out particularly for the piers of the viaduct crossing Glen Mooar. The line, particularly the section along the west coast, provides stunning views and is a very easy walk in good weather. A shame it's not still open, but, as it never made a profit and its route is now served by buses, even the most optimistic enthusiast couldn't hope for that. Arrive in Peel at 12.20. The rain we thought would happen, hasn't, so we spend a dry day in the town.

At 14.50 we get the No. 6 bus back to Ramsey. We've been to the stop before but still have a little trouble finding it as it's up the hill away from the centre of the town, and doesn't look a likely place for a bus terminus. The one-way system also tends to worry visitors as the buses to and from Ramsey both begin by heading in the same direction.

Arrive in Ramsey at 15.30 and just have time to get to the tram station in time to catch the last tram, although at 15.40 it's hardly past anyone's bedtime. It's a bit early to end our day so we take car 22 and trailer 41 to Halfway/Baldromma/the Liverpool Arms (depending on which you prefer), arriving at 16.40. From there we take the No. 3 bus back to Laxey.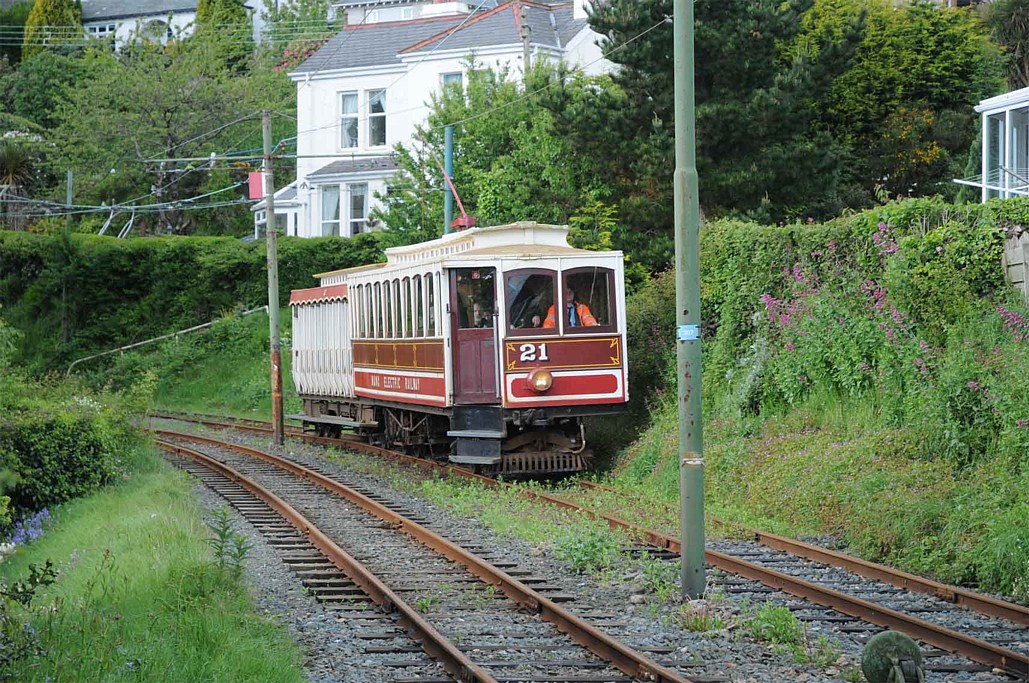 Car 21 and 43 arriving at Fairy Cottage with 09:40 from Douglas - May 18, 2009 (Photo George Hobbs)

Tuesday, May 19
Weather still a bit iffy so decided to do our Douglas shopping today. Also feeling rather short trammed so take the bus to Ramsey to catch the first tram back. Catch the No. 3C bus at 8.41 outside the Laxey police station in Glen Road - it saves the mile walk up the hill.

Hope to arrive in Ramsey in time to see the MER staff get the tram out of the shed but are too late. Car 5 and trailer 46 are standing in the station. We're very early for the 10.10 service so go for a short stroll. When we get back they'd given 5 + 46 a bath. We'd missed the action - damn!

Leave Ramsey at 10.10 and arrive in Douglas at 11.30 to find a horse tram waiting for us. Now this is more like interconnecting transport systems! Car 33 and CHARLES take us as far as the Gaiety Theatre where we head inland. Visit the Lexicon bookshop (excellent for all things Manx), which is the principal reason for coming to Douglas, and treat ourselves to a sit-down lunch rather than our usual sandwiches. By then it's quarter to two and if we want to go back by tram - which of course we do - we have to start thinking about getting to Derby Castle.

Arrive at Victoria Pier at 13.55 just in time to see horse tram 33 leave. We might have been able to run for it, but decide not to bother and wait for the next one. We wait. And wait. And wait some more. At half-past two, having waited for over half an hour and with no horse tram in sight, we decide not to risk missing the last MER car so set out to walk. At Villa Marina we see tram 33 and RIGBY on their way to Victoria Pier. Hang on, tram 33 was the one we saw leave and might have caught. That means that there is only one horse tram running. We saw three this morning (admittedly one may have been a special as there was a school party on), so what's happened to the others?

We reach Derby Castle, on foot, at around 15.00. A minute or so later tram 33, now pulled by VICTOR, also reaches Derby Castle. Incidentally, it's always delightful to see the insouciance of both staff and animals as tired horses are exchanged for fresh ones in the middle of a roadful of traffic. Each horse does two complete round trips and the exchange is made outside the tram stables.

Back to our journey. There's obviously only one horse tram running, so what's going on? To be fair, once we start looking, there are small notices around Derby Castle and inside the horse trams themselves - and presumably also at Victoria Pier although we didn't see them - saying that the early afternoon service between 13.40 and 15.20 would be run at 40-minute intervals rather than the more usual 20 minute. That means one tram, not two.

Interconnecting transport systems, my foot. The last electric tram from Douglas leaves at 15.10 remember, and it's being served by one horse tram every forty minutes. We've just spent an hour and a quarter trying to travel the two miles along Douglas promenade and in the end had to walk. Not only that, but according to the signs, the first horse tram leaves Derby Castle at 11.00, returning around 11.40. As the MER cars leave Derby Castle at 9.40, 10.40 and 11.40 the horse cars do not exactly assist passengers to get there. We're not impressed.

Take car 6 and trailer 40 to Minorca arriving at 15.50. Had intended to go home but it's much too early so we walk up Minorca Hill and along the main road to come down the path which crosses the MER line at Test House. I wonder why it's no longer a stop? It would be very convenient for where we stay and would provide an extra option in the long run between Dumbell's Row and Minorca. Wave through car 22 and trailer 41 and go for a late afternoon walk.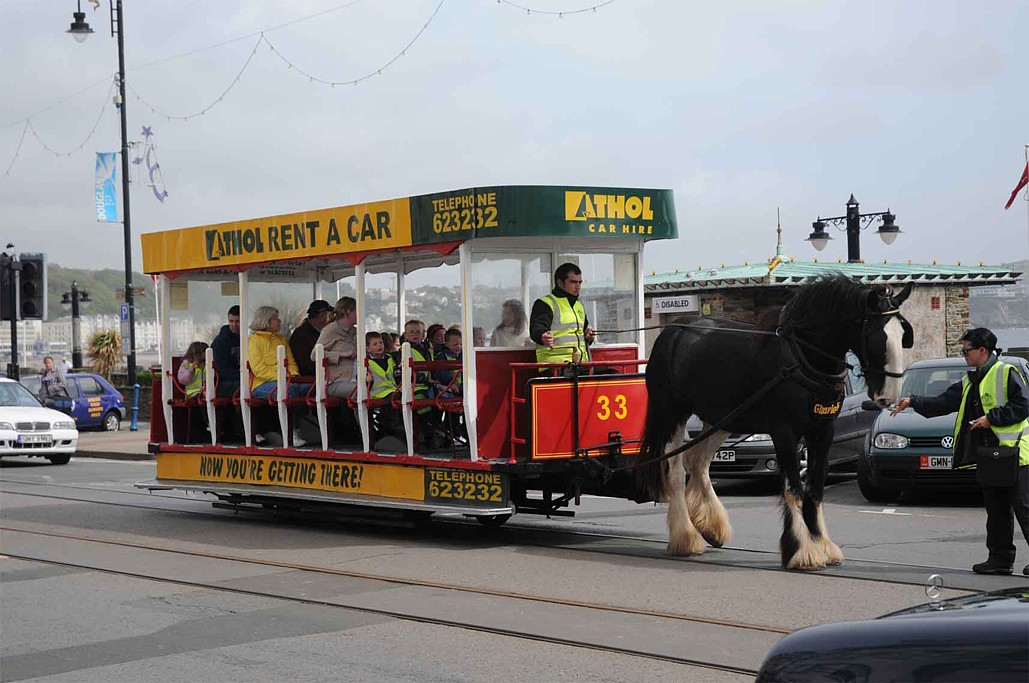 CHARLES and Horse Tram 33 - May 19, 2009 (Photo George Hobbs)

Wednesday, May 20
Weather still showery and threatening more consistent rain so ditch the plans for a long walk and decide instead on a series of short ones. That way if it buckets down we shouldn't be too far from shelter, probably one belonging to the MER. There are good walks on either side of Laxey, but, this year, we couldn't do the ones on the Douglas side as the timing of the final tram made it impossible for us to get home. We knew that timetable would be a problem.

Caught Ramsey-bound car 21 and trailer 43 at Preston's Crossing at 10.00 ish and alighted at Ballure for a walk around the Gob ny Rona headland. This has the advantage that, if the weather takes a turn for the better, we can continue around Maughold Head. It doesn't and we head for Lewaigue, catching Ramsey-bound car 5 and trailer 40 at 12.45. In Ramsey we shop for food - we're self catering remember - and return on car 5 + 40 to Crowcreen, arriving just before two o'clock.

Walk over the hill past the two burial grounds - there have obviously been some high winds here as the Neolithic site is largely covered by fallen trees - and arrive at Ballajora in drizzle. There's a good shelter here though, which is one of the reasons we planned the walks as we did. Of course, as we arrive at the shelter the rain stops.

Catch Douglas-bound car 21 and trailer 43 at around ten to three. Had debated where to alight and decide on Ballabeg. The plan is to catch the last Ramsey-bound tram at Ballabeg but the timetable means that they cross near here. If we're late we'll miss the last tram but this is an experienced crew which makes lateness unlikely. There's quite a big gap between Ballabeg and Ballagawne, the next stop, and we daren't go so far or it might mean a longer walk back to Laxey than we want just now.

Alight at Ballabeg 15.30. We haven't passed the last car so we're OK. A few minutes later catch car 5 and trailer 40 to Laxey Old Road.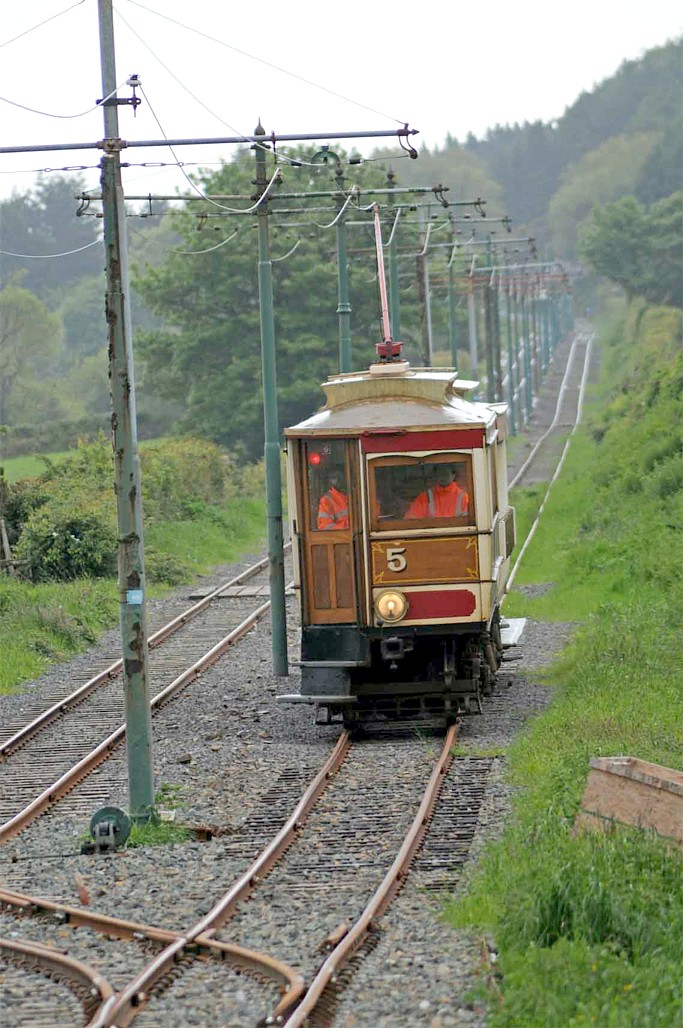 Car 5 and 40 approaching Lewaigue with 11:40 from Douglas - May 20, 2009 (Photo George Hobbs)

Thursday, May 21
Looks like we're getting some good weather so decide on a longer walk. Catch Snaefell Mountain Railway car 4 to Bungalow arriving at around 10.40. Lovely walk down Glen Mona despite the fact that one of us gets stuck in a bog and the other has his boots disintegrate!

Could have caught the tram from Cornaa or Ballaglass and in either direction as the cars cross about there. Decide to aim for Ballaglass. Slightly misjudge the time and see the Douglas-bound tram go through when still about a quarter of a mile from the stop. Argh! Accelerate from stroll to trot and catch Ramsey-bound 5 + 41 by a whisker.

Arrive at Ramsey at 15.30. Get into conversation with a couple who had arrived on the Ramsey tram and wanted to spend an hour or so in Ramsey before returning on the tram. Hearing that the last tram leaves in ten minutes time they decide to go back by bus. And grumble about it.

Leave Ramsey at 15.40 on car 5 + 41 and alight at Preston's Crossing.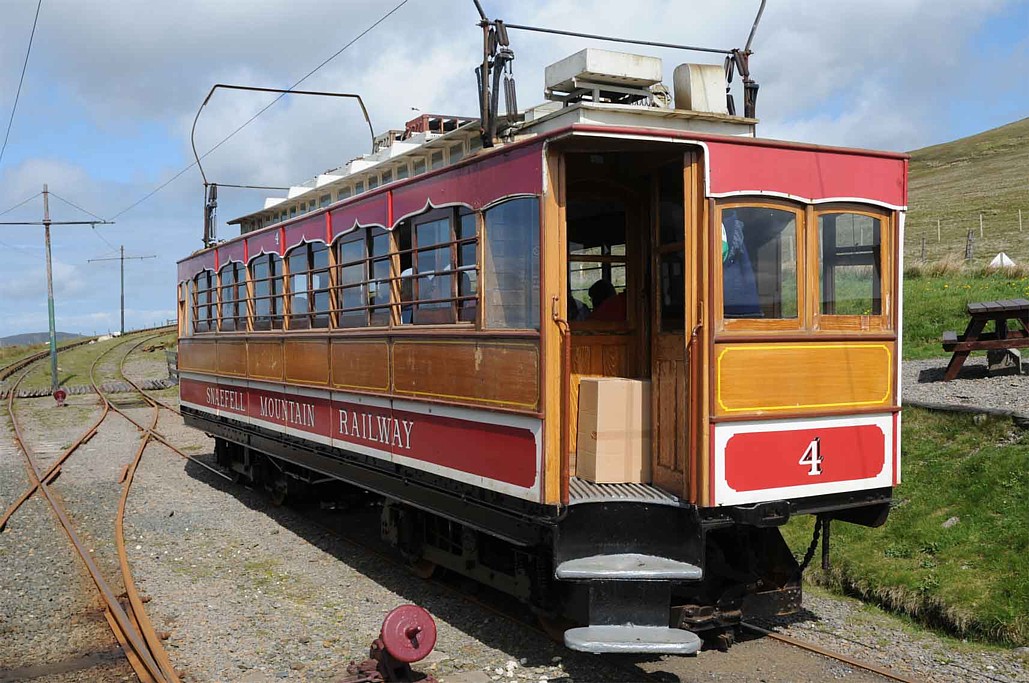 Snaefell Car 4 at Bungalow leaving for Summit - May 21, 2009 (Photo George Hobbs)

Friday, May 22
Raining this morning so consider our options. We haven't been to Point of Ayre since they closed the landfill, but the buses don't go near it except at school times and a whole day there in the rain doesn't sound like fun. We've never been to Bride at all but the timetable doesn't allow it. (Tram to Ramsey, arrive 10.55, catch 17A bus to Bride at 12.15, arrive Bride 12.53, depart Bride on 18A bus at 13.29, arrive Ramsey 14.10, leave Ramsey on last tram 15.40. Only half an hour in Bride.) Would have quite liked to visit Castle Rushen, but can't ride on the steam railway as the timetable is impossible if we want to use the MER as transport. Last tram from Douglas is at ten past three, remember. With all the wonderful heritage transport about we prefer not to ride on buses.

Decide to visit the Grove Museum; we haven't been there for a while. Catch car 21 and trailer 43 at Preston's Crossing and arrive at Ramsey at 11.00. Walk the mile to the museum; not (quite) raining! The museum is interesting, the staff friendly and the café/restaurant serves exceptionally good food.

Walk back to the tram station and catch car 21 + 43 at 14.40. Too early to go home so alight at Cornaa and return to Queen's Drive on car 19 + 41. Walk up Walpole Drive and round by the road to Queen's Valley. The Walpole Drive and Queen's Valley tram stops are only four poles apart and, as the walk round the road is about six times as long, there is a great temptation for pedestrians heading for the new houses to walk along the track - we have actually seen people use it as a short cut. (We didn't - honest!) Would it be a good idea to introduce a footpath at the side? Notice that the Queen's Valley road crossing lacks the yellow hatchings of the other crossings. It could do with them too as the rails are not easy to see from the road.

Catch car 19 and trailer 41 to Preston's Crossing.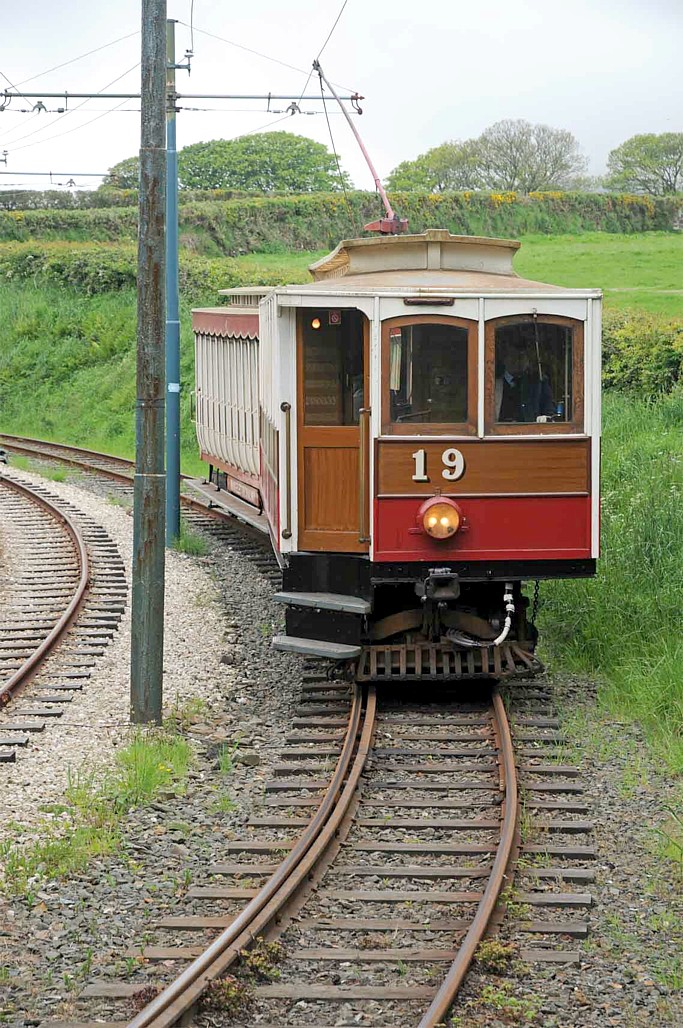 Car 19 and 40 approaching Cornaa with 14:10 from Douglas - May 22 2009 (Photo George Hobbs)

Saturday. May 23
Last day. Haul the cases the mile up Glen Road as neither the 3C nor the 13 bus runs at the weekend. Heavy going.

At Laxey catch Ramsey-bound car 21 and trailer 43 and load the bags onto the back of the trailer. The conductor is at first rather confused that we want to go to Douglas via Ramsey but we explain that our flight is in the evening and we have to vacate our cottage by ten o'clock in the morning, so a ride on the vintage transport is one of the few enjoyable things we can do while lugging luggage.

At Ramsey the conductor and station master kindly allow us to leave our bags on the trailer while they run it round. We reboard and car 21 + 43 take us back to Douglas. Short wait for the horse tram and - guess what - it's started raining again!

The horse tram is fairly full, but the conductor kindly allows us to put our bags on the rear platform. They are obviously in his way, but he appears willing to put up with them for one journey. JOHN pulling tram 45 takes us the length of the promenade arriving at Victoria Pier in horizontal hail, just for a change. While helping us off with the bags the conductor remarks that global warming hasn't yet reached the Isle of Man.

Tow bags the half-mile to the railway station stopping very briefly to watch the road bridge over the harbour lift. Not seen this before and would photograph it, but the hail now bouncing off hats and cases wouldn't be good for the camera and is anyway beginning to be painful. Scurry into the railway station café to thaw out.

Debate whether we've time to take the train to Port Erin and catch the bus back to the airport. We probably have but caution prevails and we ask the guard to set us down at Ronaldsway. Our cases go in the guard's van and we catch the three-coach train hauled by No. 10 G H WOOD, leaving Douglas at 14.20.

Just as well we are cautious about the timing as sheep on the line cause a twenty-minute delay just outside Ballasalla. Most of the small flock is guided away from the train by the fireman, but one is slightly injured by a footboard (the cut is small and will apparently be stitched) and is cared for by the guard until the farmer arrives. IoM Railway staff obviously have to be multi-skilled!

Pass No. 13 KISSACK waiting patiently at the passing loop in Ballasalla station. Passengers aboard didn't appear to be concerned about the delay, so perhaps they'd been told the reason. Arrive at Ronaldsway and, guess what, it ISN'T raining! The guard exhumes the luggage from the guard's van, and we wave our thanks as the train heads towards Castletown. Plod up to the airport, cases in tow.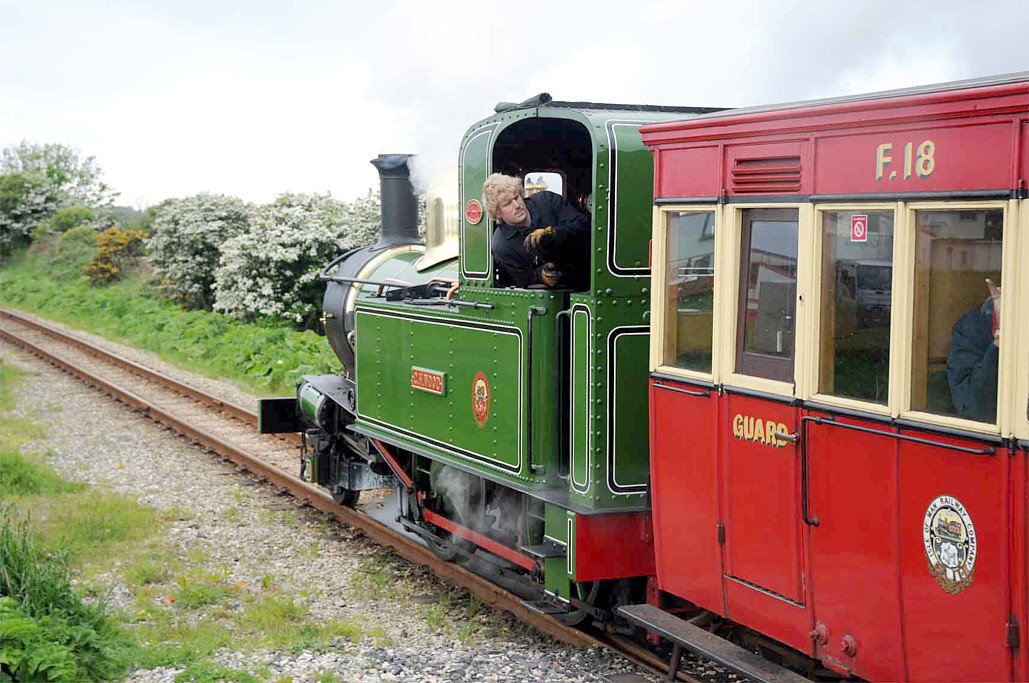 10 G H Wood leaving Ronaldsway with 14:20 from Douglas - May 23, 2009 (Photo George Hobbs)

Verdict
A grand holiday as always, and it's lovely to have the horse trams running and the whole of the MER open as it should be, but the timetabling appear to have been (dis)organised by someone who has never even ridden on the vintage vehicles never mind used them as transport.

It's also noticeable that MER driver training appears to be going on later than in previous years. The drivers under instruction take extreme care - rightly so - but their caution tends to cause delays and it was not unusual for trams to arrive twenty minutes late. This is not a criticism of individual drivers who even while learning provided a safe and generally comfortable ride, but surely such training should be carried out much earlier in the season.

Lengthy delays to the MER timetabled service - a few minutes is neither here nor there on holiday - have serious knock-on effects. Firstly there is often a ten-minute connexion between trams arriving at Ramsey and buses leaving the town. A twenty-minute late tram means missing the connecting bus and might make a difference between it being worth visiting an attraction or not. Secondly the last tram leaves Douglas so early that any delay in arriving in there leaves visitors very little time once they've reached the centre. The first MER tram arrives at half-past eleven, the last leaves at ten-past three. A late arrival plus delays getting to and fro along the promenade can easily leave visitors with less than two hours in Douglas. (Weather? Who cares!)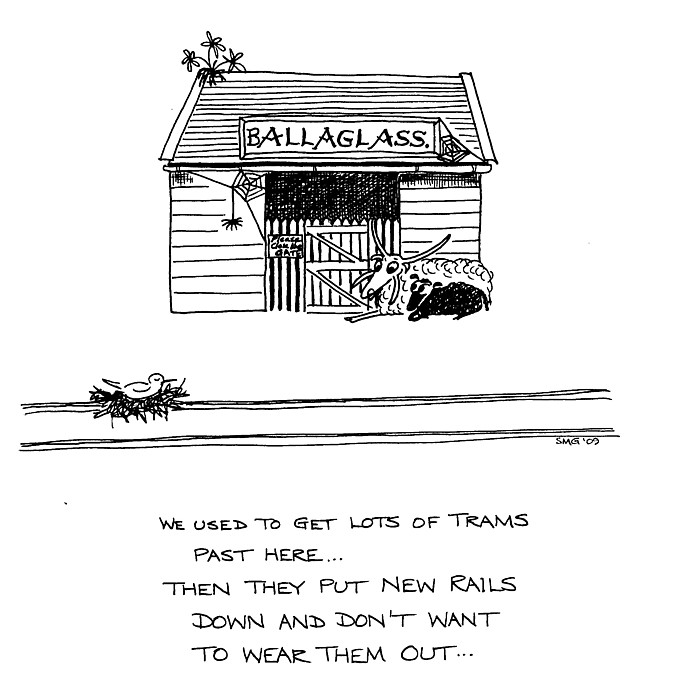 (Cartoon - Sara Goodwins)