This page is designed for photographic contributions to the Manx Electric Railway Society website. If you have any views of transport to or on the Isle of Man, particularly pre 1980, and would like to see them added to the website please e-mail first with details to [email protected] All contributions welcomed.
Transport enthusiast Roy Cripps has sent in the following views of Island transport. The MERS is very grateful for the use of these photographs, which make a welcome addition to the website. Copyright for each view remains with Roy Cripps.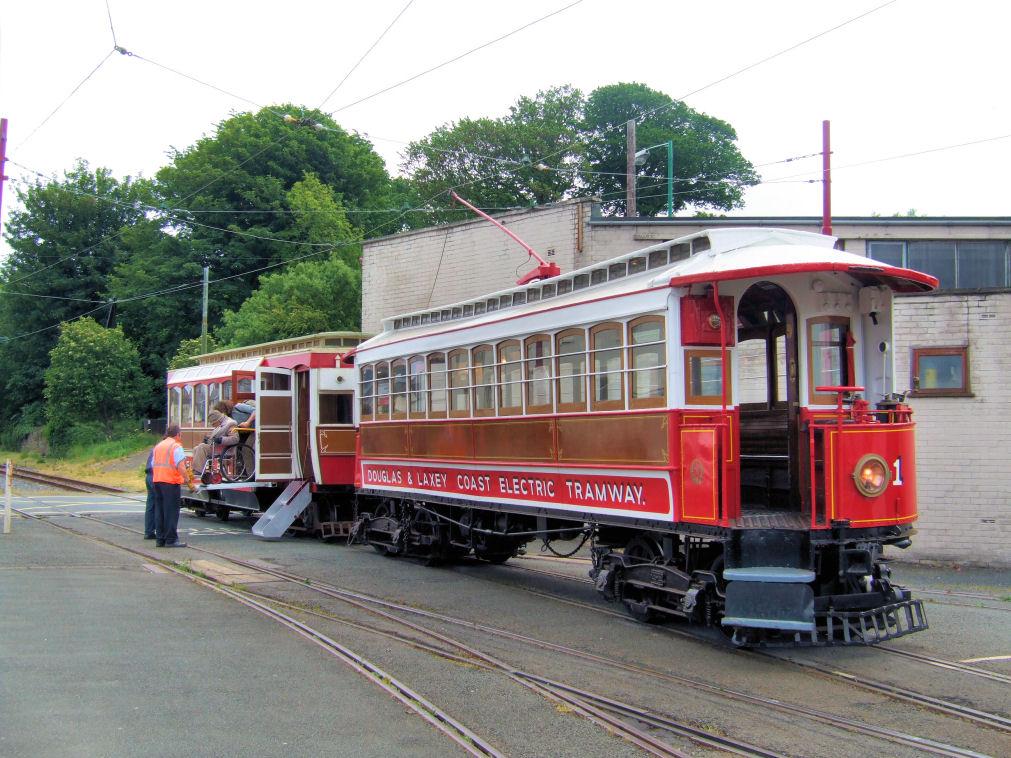 Manx Electric Railway car 1 and disabled persons trailer 56 are seen at Ramsey on Tuesday, June 13, 2006. The trailers wheelchair ramp is being used for passengers to disembark.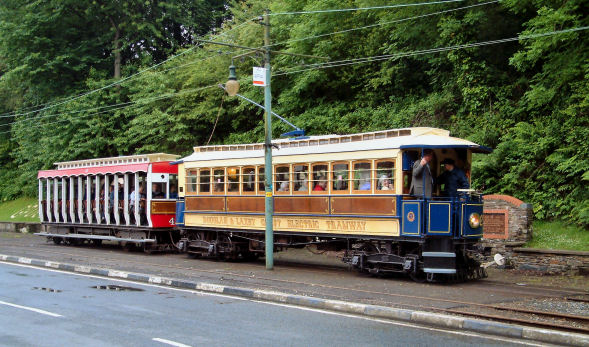 For a short period 1893 car 2 had some of its maroon repainted blue, as seen in this view here at Groudle on July 16, 2002 in the company of trailer 43. Apart from looking decidedly odd amongst the red cars, the effect is somewhat marred because it was only a partial repaint, side lining retaining maroon from the previous livery. Car 2 now carries MER red and white livery similar to that applied to sister car 1.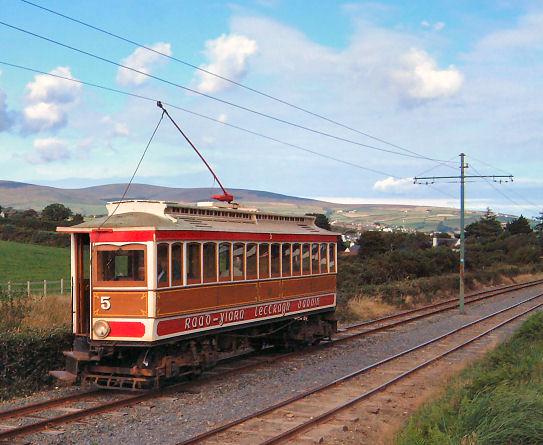 MER tunnel car 5 is seen approaching Baldrine station en route to Ramsey with a service tram on September 11, 2001, with the Island's mountain range in the background. Note the Ramsey bound track had recently been re-laid, whilst the tram shows the fleetname in the Manx language.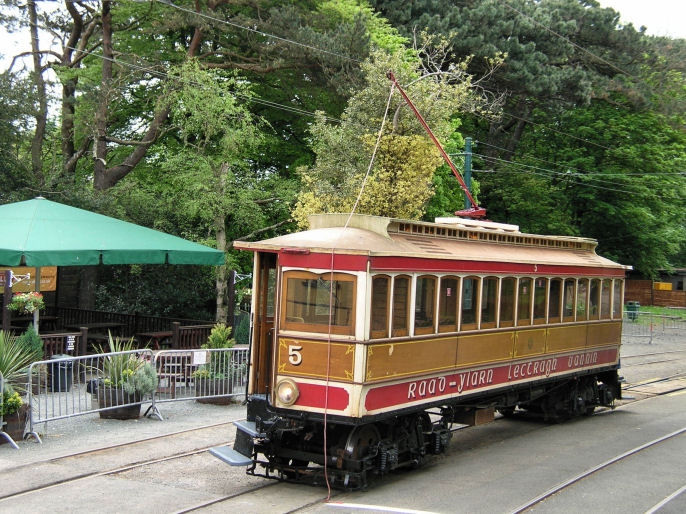 The same car almost seven years later, caught at Laxey station on Friday, May 16, 2008 during the shortened operation between Derby Castle and Laxey only.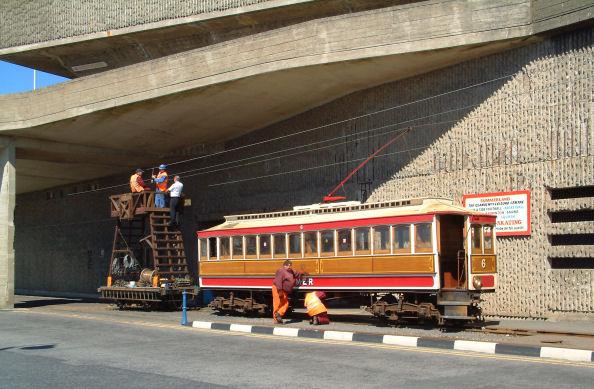 Tunnel car 6 is seen outside the doomed Summerland complex on March 25, 2002 whilst in use as a winter wire car. As the overhead crew attend to some problem with the wires, other members of staff look intently under the car.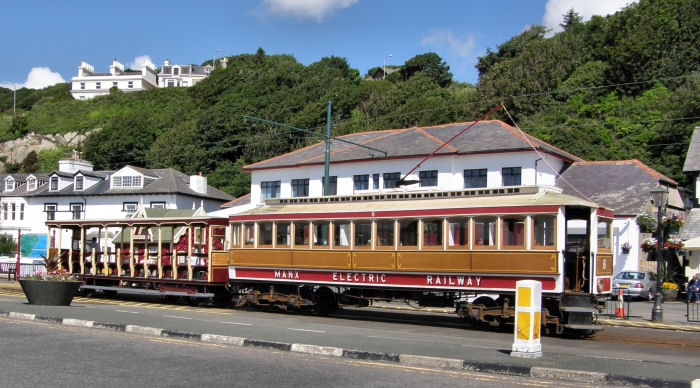 Car 6, along with 1893 trailer 49, has just shunted at Derby Castle in readiness for its next trip north on Wednesday, June 4, 2008.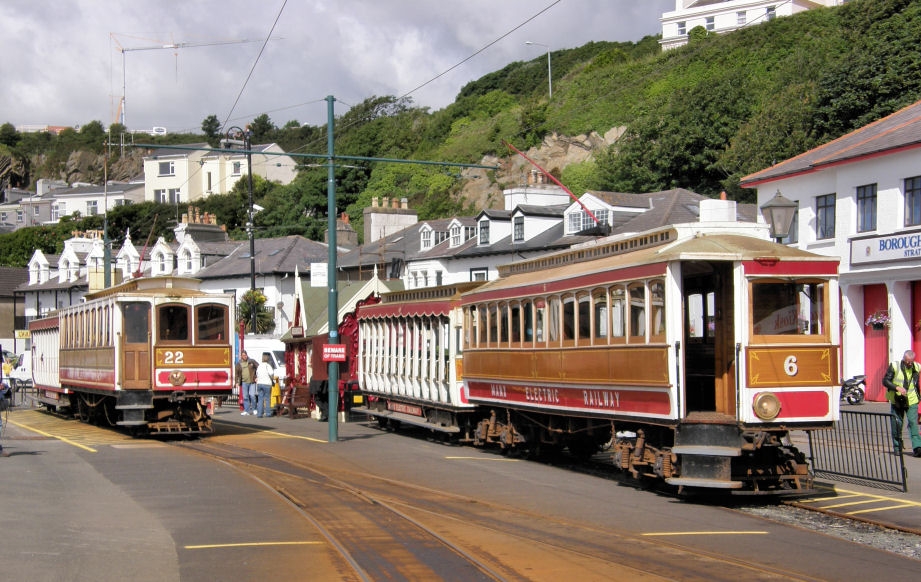 Tunnel car 6 and Winter Saloon 22 sit at Derby Castle on Saturday, July 12, 2008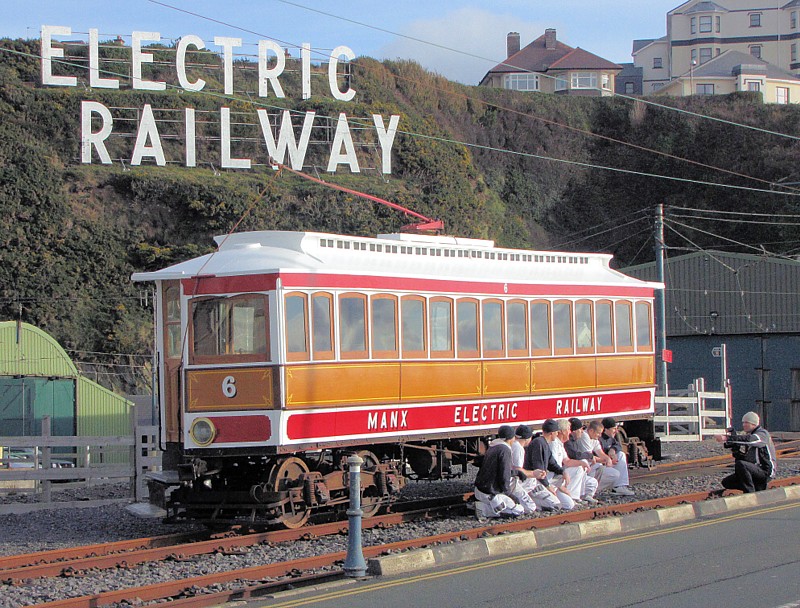 In the winter sunshine freshly repainted Tunnel car 6 poses for photographs outside Derby Castle depot on Wednesday, November 24, 2010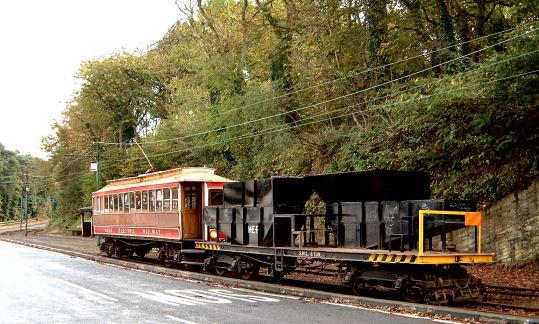 Traditionally during the winter period a regular service car, normally but not exclusively from the batch of tunnel cars, is given over the to the per way dept for maintenance duties. Car 7 is seen at Groudle on October 22, 2001 whilst operating as such. At the beginning of each summer the car would be cleaned and returned to passenger service - however so far this has proved not to be the case for car 7, it is still (2005) used on per way work and has not seen passenger use in a number of years. The condition of the tram is dreadful, not helped by outside storage during a large part of the 2004/2005 winter.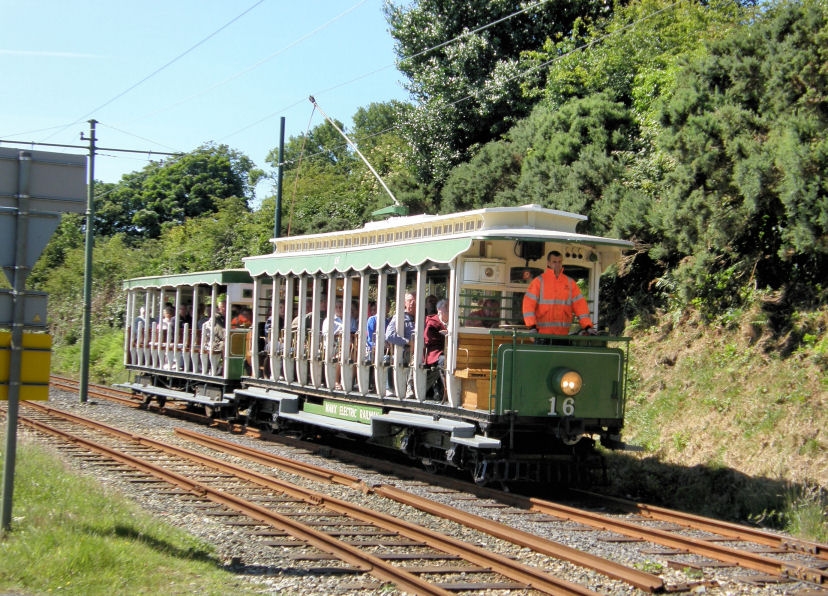 As part of Isle of Man Railways 2008 enthusiast events paddlebox car 16 and the delightful little trailer 60 were operated on service between Derby Castle & Ramsey on a number of occasions. The pair are seen approaching Dhoon Quarry on Monday, July 21, the landside track north of Laxey having re-opened a few days earlier. At this time the seaside track remained closed with single-line operation in place between Laxey and Ramsey.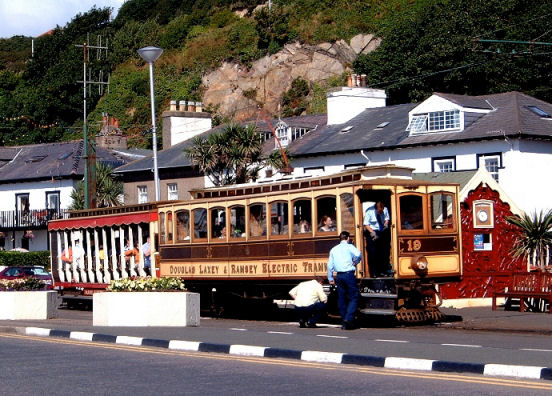 1899 Winter Saloon 19 sits at Derby Castle with good patronage on August 9, 2001, shortly to depart for Ramsey. The tram carries the yellow & brown livery and lettering for the Douglas Laxey & Ramsey Electric Tramway. Trailer 48 was also painted in this scheme to match the power car, but on this occasion the tram is paired to a red and white liveried 40's class trailer.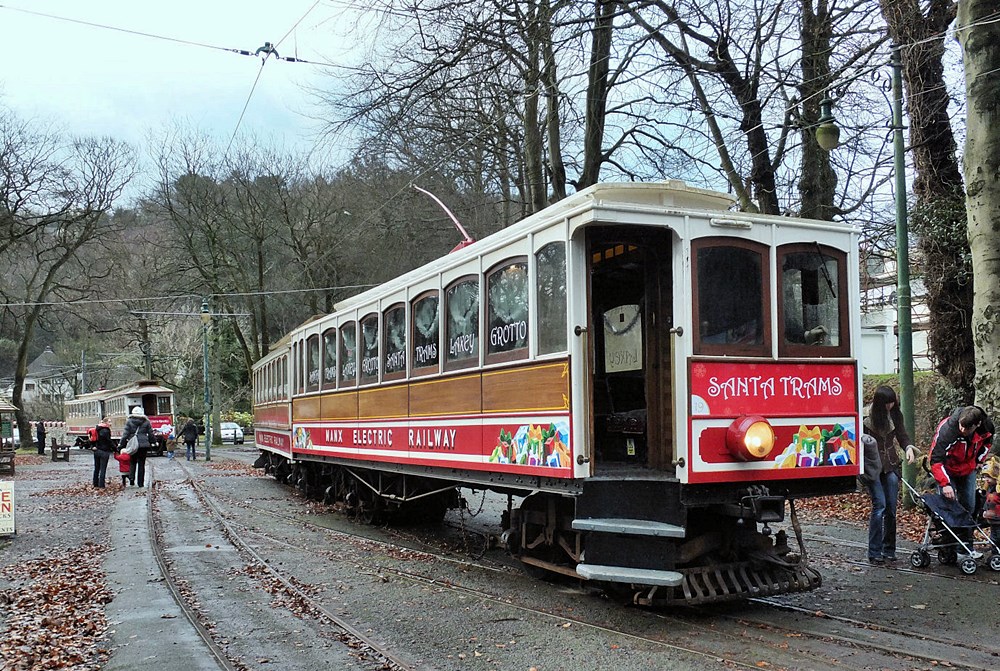 During December 2012 Santa trams were opertated on the Manx Electric Railway, linking the outer stations with Laxey where Santa could be found in the village. Bedecked with festive garb Winter Saloons 19 and 20, hauling closed trailers 57 and 58 meet at Laxey station whilst passengers mingle around the cars.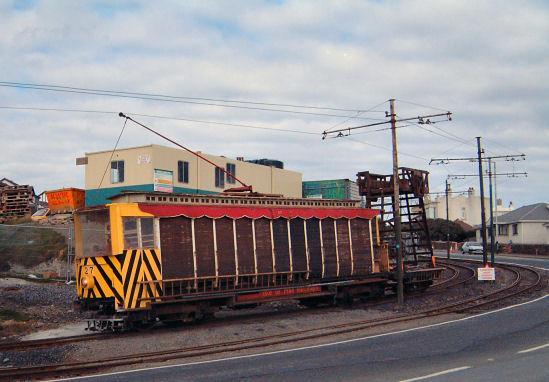 Manx Electric Railway paddlebox car 27 has for several years been in use as a per way unit, with knocked up cab and yellow and black hazard stripes. It is now stored out of use, but is seen rounding the curve by the former Douglas Bay Hotel site on September 11, 2001. Behind the car work is beginning on the new office block that has since replaced the impressive structure that was once the hotel.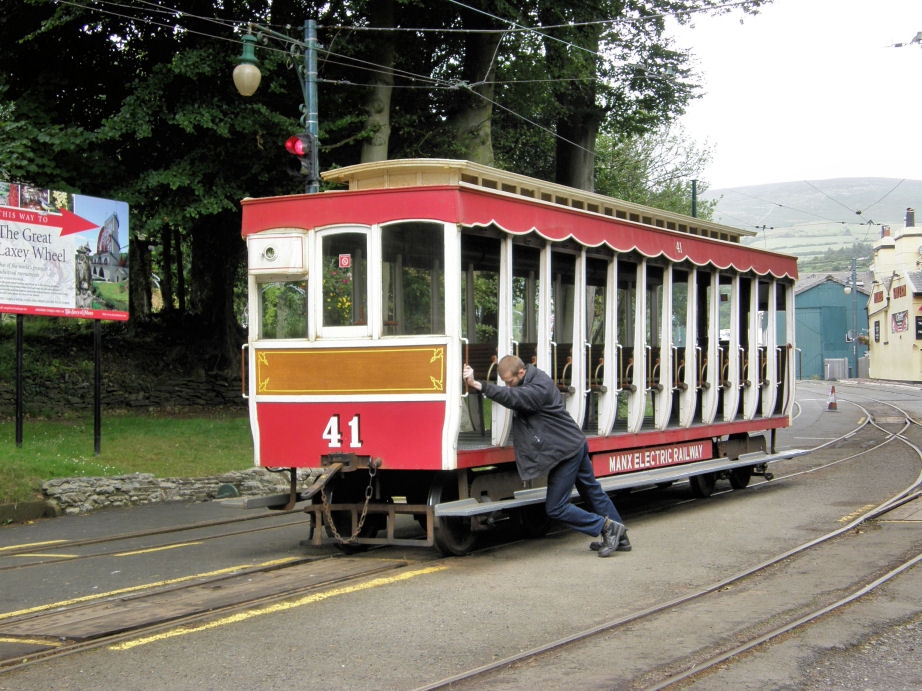 Trailer 41, built in 1930, is being shunted in Laxey on Saturday, July 19, 2008. It is about to be re-attached to Tunnel car 5 before returning to Derby Castle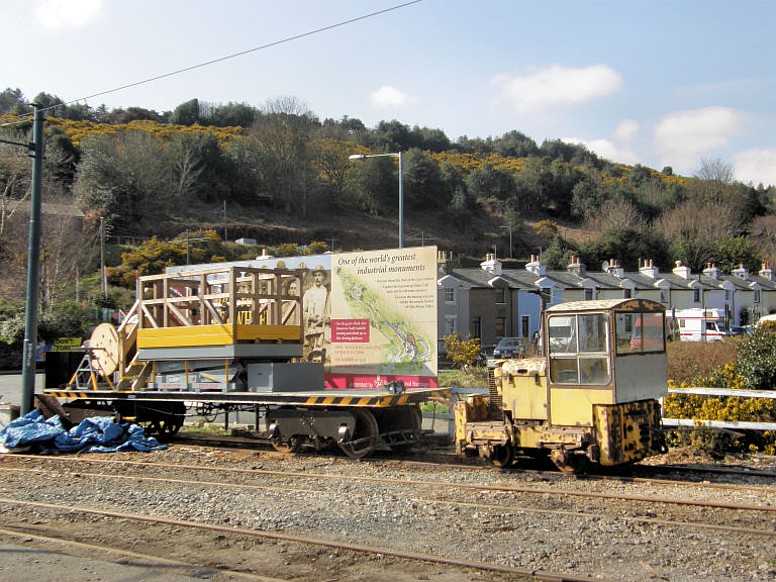 Above & Below: Former MER passenger trailer 52 is seen at Mines Road, Laxey on April 2, 2009 carrying the raisable platform tower for use on 'poles & wires'. Ham & Egg Terrace and the SMR depot building can be seen in the distance in the upper photo, with the one-time Isle of Man Road Services bus garage in the background of the lower photo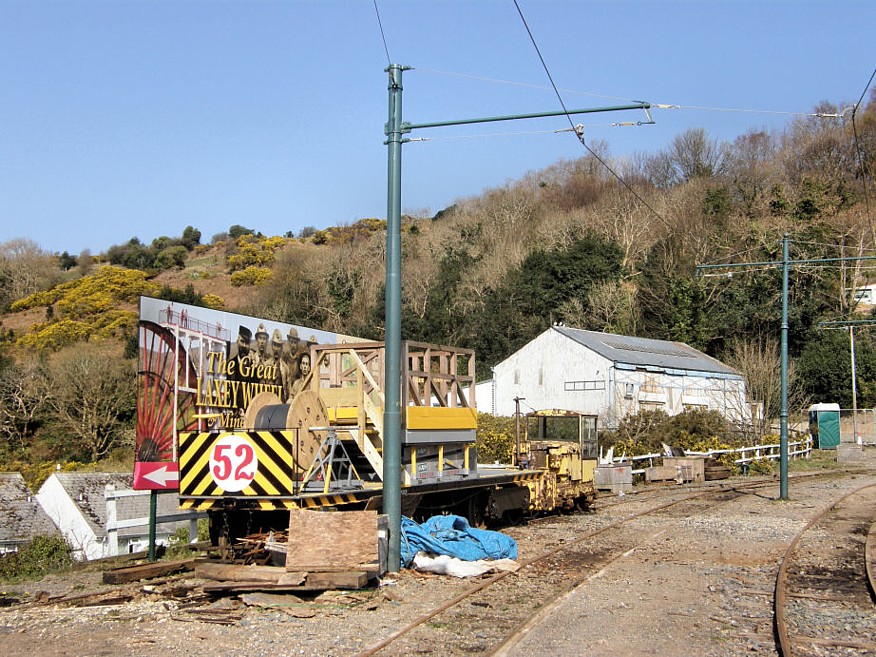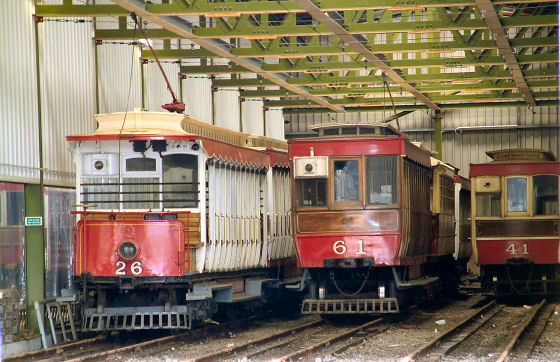 Looking inside the top shed at Derby Castle depot on July 14, 2002 a range of MER stock can be seen, including paddlebox 26, trailers 61 and 41 and behind trailer 61 are cars 1 and another trailer. Some of the lines most modern stock is present, 61 dating from 1906 and 41 which replaced a similar car in 1930.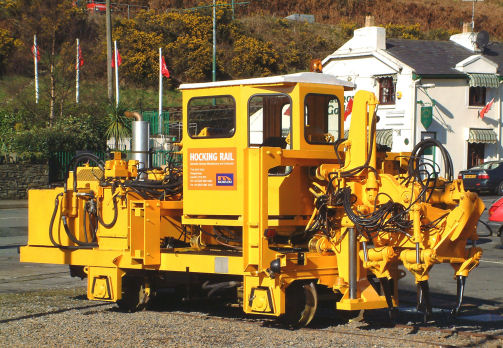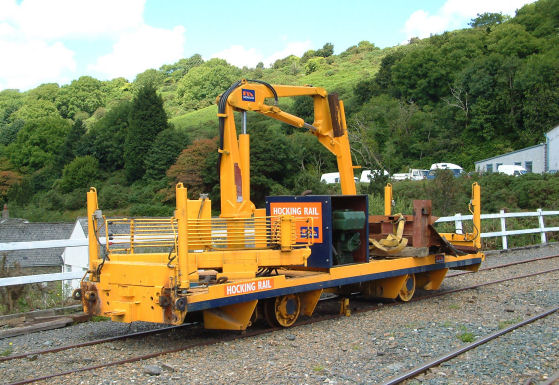 In recent years a considerable amount of trackwork has been re-laid on the Manx Electric, mostly by outside contractors. Two pieces of equipment that contractors Hocking Rail brought with them are seen at Ham & Egg Terrace, Laxey. The first is a tamping machine pictured on March 25. 2002, the second is a mobile crane photographed on July 29, 2002.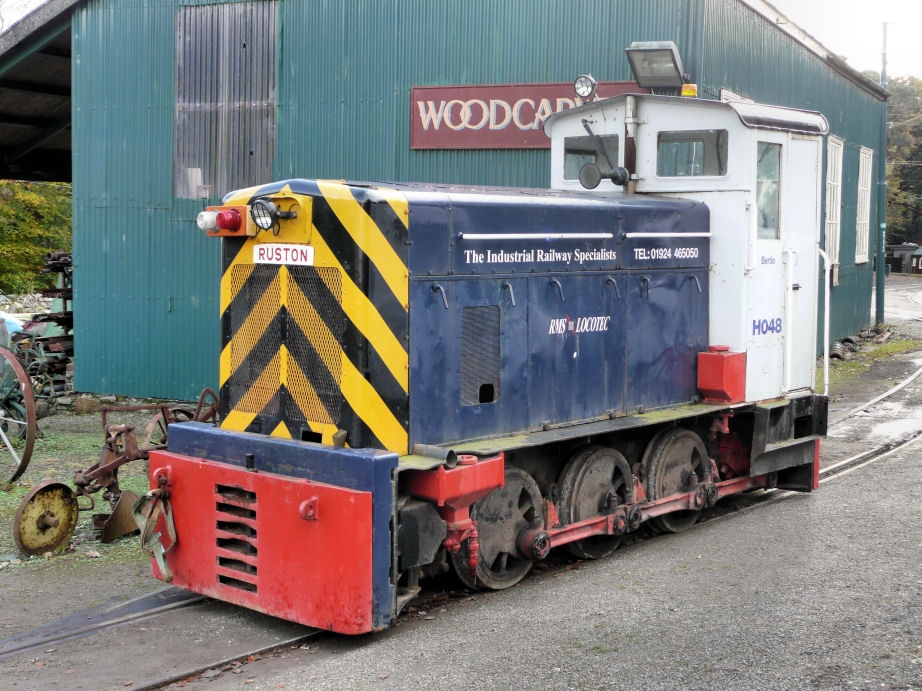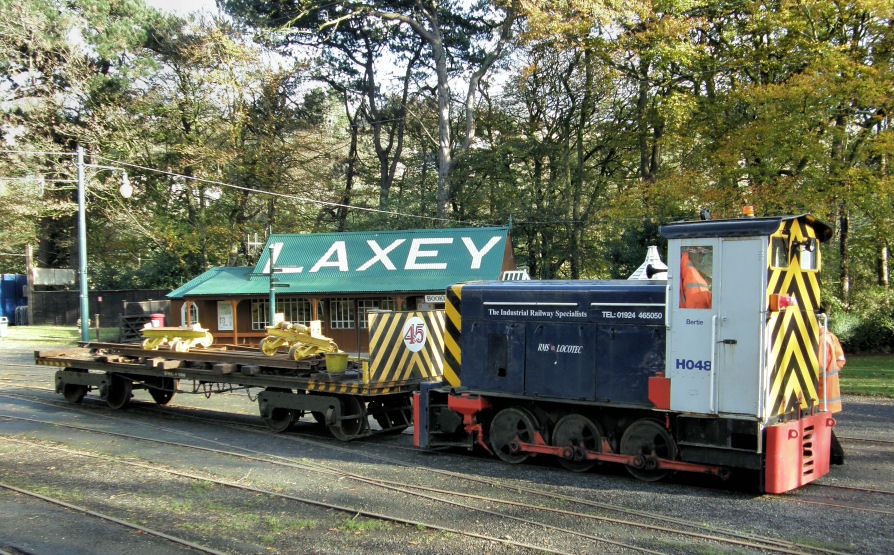 Work has commenced on the Manx Electric 2007/2008 winter relay and which has again seen the Ruston locomotive and trailer 45 in use with the contractors. The loco is first seen alongside Laxey Goods Shed on Friday, November 2, 2007 and later on per-way works with the former trailer on Thursday, November 15, 2007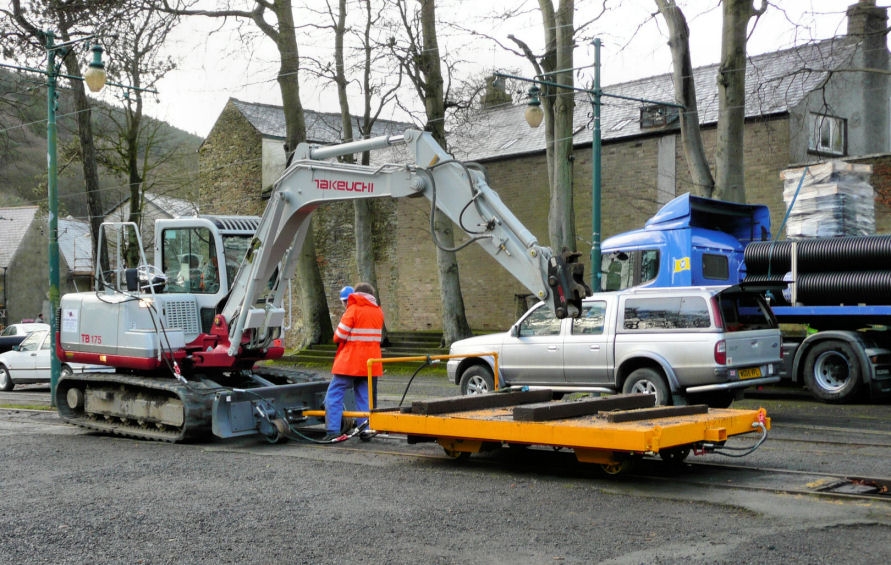 Contractors eqipment is seen at Laxey station on Monday, January 7, 2008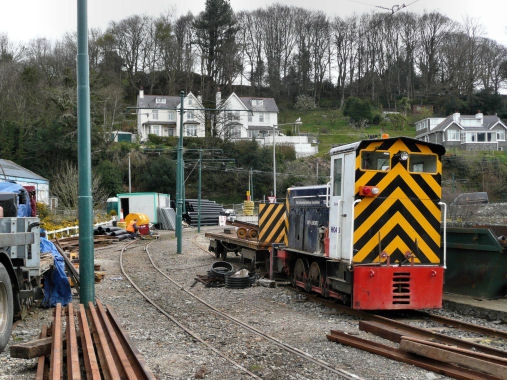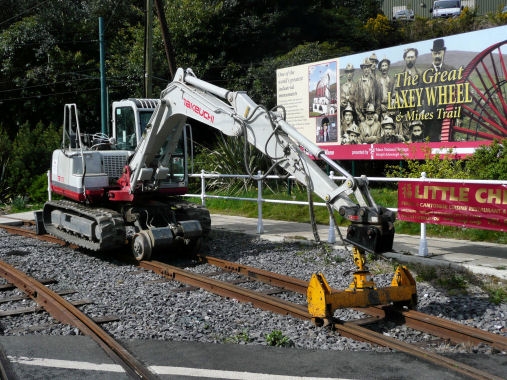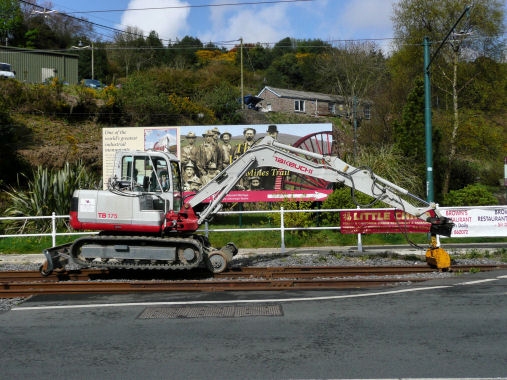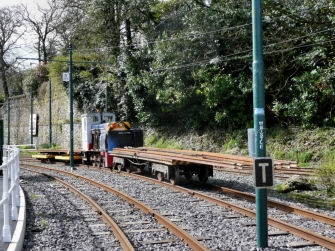 The above four photos taken during April 2008 depict some of the contractors equipment at Laxey that was in use for the early summer partial relay on the Laxey-Ramsey section of the Manx Electric Railway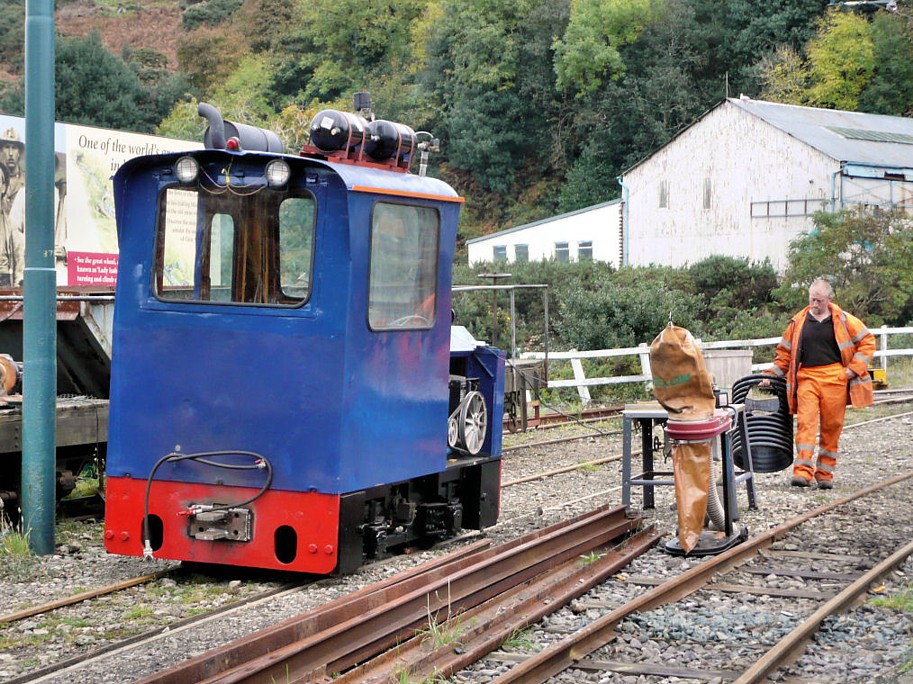 Subsequently named BUNGLE, and seen at Laxey Mines Road on October 14, 2008, this former locomotive was one of three acquired to assist with the 2008/2009 winter relay. At the time it was the only one of the trio to have made its way to the railway and was being used purely as a generator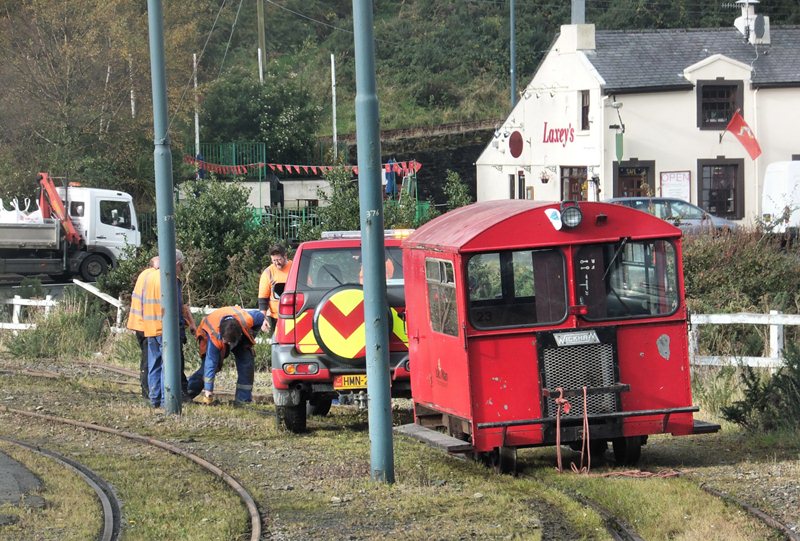 Four years later on October 19 2012, and at the same location, Wickham railcar '23' is seen about to be towed to enable the machine to enter Laxey station.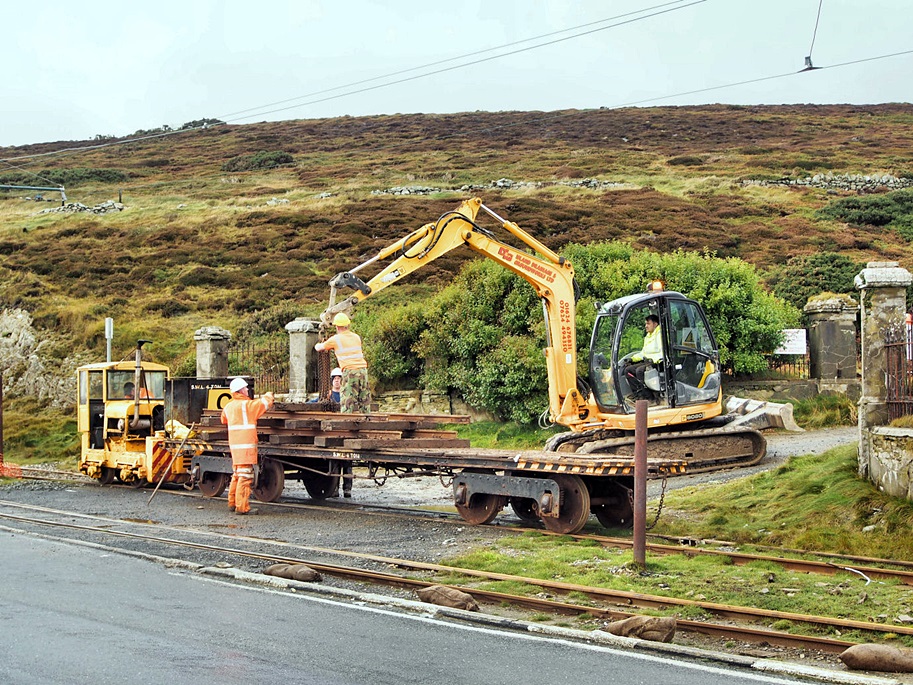 Former MER passenger trailer 45 and diesel shunter are seen at Howstrake Top on Monday, November 11, 2013 during the movement of per-way infrastructure in connection with the track relay in the area scheduled for this winter.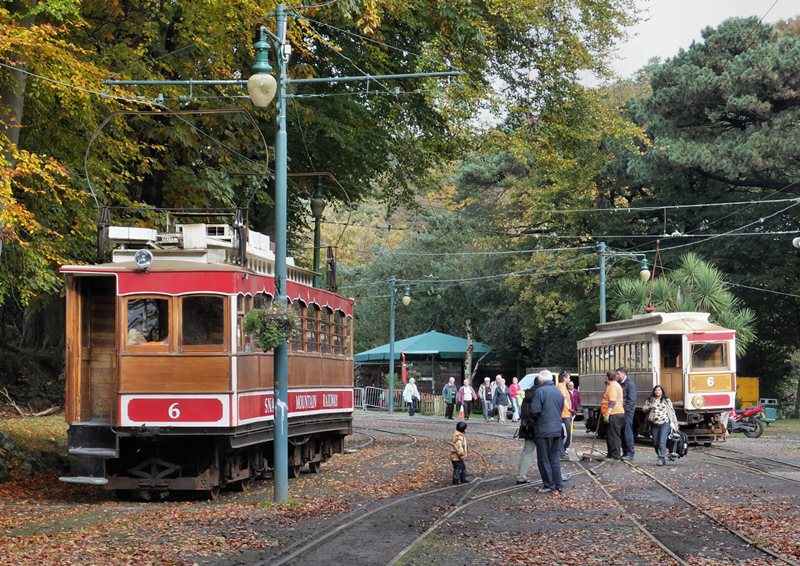 Snaefell Mountain and Manx Electric railways cars carrying the same fleetnumber meet at Laxey station on October 20, 2012 - the former line having its operating season considerably extended for the 2012 summer timetable.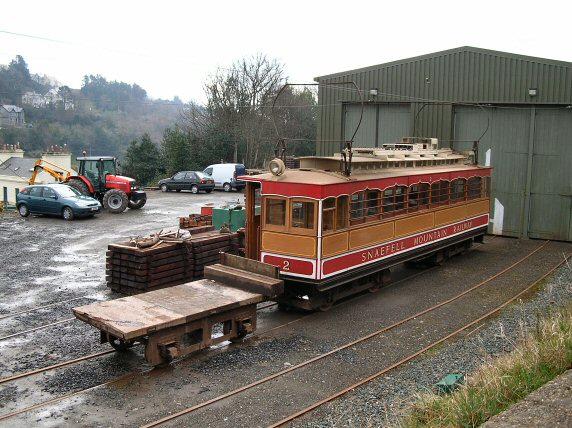 Snaefell Mountain Railway car 2 is caught outside the line's Laxey sheds on March 24, 2005, prior to the start of the summer season